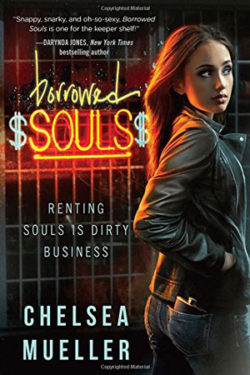 Author

Chelsea Mueller

Release Date

May 2, 2017

Publisher

Talos Press

ISBN/ASIN

978-1-940456-82-9

Our Rating

Reviewed by

Kate Curran
Our Review
BORROWED SOULS by Chelsea Mueller is a page-turning urban fantasy about borrowing souls. Callie Delgado is dedicated to her mother and brother even though they let her down time and again. Her brother has a drug addiction problem and owes a drug boss more than he can repay. In order to save him, Callie must borrow a soul and commit a crime to repay her brother's debt or have him returned in pieces.
Callie must barter a deal with the local charmer to borrow a soul since she's drained her finances bailing her brother out. And part of that deal is to work with hunky Derek collecting borrowed souls.
Callie is forced to walk the line between losing her soul and saving her brother, but fortunately she has Derek there to support her. She and Derek become involved, and she is falling for him, and it scares her. But this is the first book of the series, so you have to read on to find out if she and Derek stay together.
I'm not a big reader of urban fantasy, but this was a great read and I'd highly recommend it.