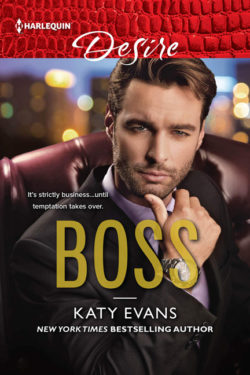 Author

Katy Evans

Release Date

March 1, 2019

Publisher

Harlequin Desire; Original edition

ISBN/ASIN

B07GJLRJ32

Our Rating

Reviewed by

LJT
Our Review
I love a good office romance and BOSS by Katy Evans does not disappoint. The two main characters both work for Cupid's Arrow, the area's premier dating app. At only twenty-four years old, design manager Alexandra Croft is a force to be reckoned with. She is talented, a workaholic, and well respected by her boss and colleagues.
Kit Walker was just appointed CEO of Cupid's Arrow, his father's company. With little to no business experience, Kit has big shoes to fill. He has spent most of his life living the life of luxury. He is extremely good-looking and a quick learner. Alex does not cut Kit any slack, especially because she believes he has no clue about the workings of a corporation. However, they share a sexual spark that cannot be denied.
I did not like Alex for a good portion of the book, since her attraction to Kit overtakes her common sense and ability to do her job. However, at the same time I completely understood her infatuation, it was genuine and true to life. Kit's good-looks, personality and fairness in the workplace is an irresistible combination. Their sexy times are hot and passionate.
This is a nicely written love story with an engaging plot and well-defined characters. I found Alex and Kit to be intelligent and real. Their time together was replete with lustful attraction, while Kit's romantic gestures made me swoon. Overall, this is a solid romantic read.