Boyfriends of Christmas Past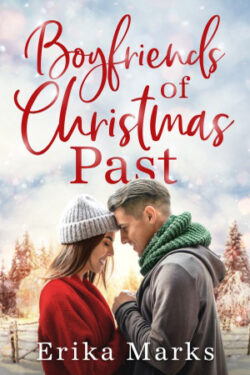 Author

Erika Mark

Release Date

November 6, 2019

Publisher

Tule Publishing

ISBN/ASIN

B07XVV37V2

Our Rating

Reviewed by

book lover
Our Review
BOYFRIENDS OF CHRISTMAS PAST by Erika Mark is a fun take on A Christmas Carol.
Emma Wallace, aka Ebenezer Scrooge, a graphic design artist, is obsessed with her career to the point she doesn't have time for anything but climbing the corporate ladder. Sam Cole, her current boyfriend, an architect, is the complete opposite. He's always there for Emma and cooking is Sam's passion. He even teaches an after-school cooking class for kids.
As the book opens, Sam and Emma are on shaky ground. Emma's sole focus is on her career, the big account she's about to land, and being financially independent. She's close to driving Sam away. He is kind, patient, and loves Emma, but he's reaching the breaking point and about to end their relationship.
To prevent Emma from losing him, past boyfriends arrive in her dreams to show her the mistakes she made in those relationships. A perfect feel-good read that you won't be able to put down with a satisfying happily-ever-after.