Breaking Badger (The Honey Badgers Chronicles)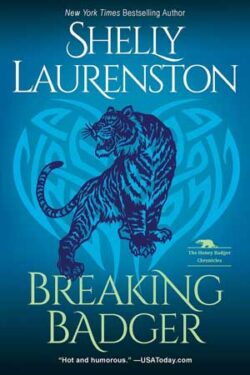 Author

Shelly Laurenston

Release Date

August 31, 2021

Publisher

Kensington

ISBN/ASIN

‎978-1496730145

Our Rating

Reviewed by

SJ
Our Review
The fourth book in Shelly Laurenston's humorous paranormal romance series, The Honey Badgers Chronicles, is filled with zany characters and a fast-paced plot that amuses and entertains as only a Laurenston book can. (Note, this book is not a standalone. There are a lot of past characters, and if you haven't read the previous Honey Badgers Chronicles, you might be confused.)
Finn Malone, Siberian tiger shifter, and honey badger shifter Mads Galendotter previously appeared in the Honey Badger Chronicles, but this story has them the central couple amidst their kooky and dangerous friends. Finn helps a couple of honey badgers in trouble, but when those honey badgers try to thank the tiger and his brothers for their help, his rude brothers make a hash of things. And this turns out to be a problem because the honey badgers have information that can help the Malones deal with a major family problem.
The honey badgers involved are teammates on a basketball team–as well as secret mercenaries–who take no prisoners. The women are all strong, funny, and quirky. The action and comedy are at times over the top, but the heartfelt camaraderie and sisterly antics make this an enjoyable read. 
The romance is a little more present than the past Badger Chronicle books, but still, barely even half romance to half adventure. I have no idea if the author plans to give the rest of Mads's teammates stories, but I'm game to read them if she does. A fun, funny paranormal romance that will make you laugh and turn the page faster and faster. Don't miss BREAKING BADGER.