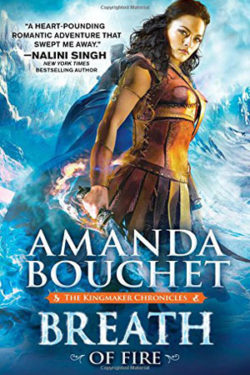 Author

Amanda Bouchet

Release Date

January 1, 2017

Publisher

Sourcebooks Casablanca

ISBN/ASIN

978-1-4926-2604-6

Our Rating

Reviewed by

Vanessa E.
Our Review
If fantasy romance speaks to your spirit and revs your soul, you will thoroughly enjoy this compelling love story of two strong-willed individuals whose destiny is intertwined with adventure, passion and the ever present interference of gods and goddesses of their universe.
BREATH OF FIRE represents the second installment of Amanda Bouchet's "The Kingmaker Chronicles." This story advances the romance of Catalia and Griffin, two star-crossed lovers from Fisa and Sinta, respectively, whose fated love will either mean their happiness or their doom.
Their journey leads to the revelations of Catalia's true heritage and abilities and whether or not Griffin is able to accept each newly discovered talent she gains. The author shows us the uncertainty of Cat's belief in her gifts, whether they will aid or hinder their goal of uniting their people against the impending threat of her powerful mother and adversary, Andromeda. The true star in this story is the neverending faith Griffin shows in the woman he loves. No matter how many doubts, fears or challenge they face, Griffin's love for Cat is everpresent and buoys our heroine to triumph over every obstacle on their journey.
Ms. Bouchet's attention to detail and wealth of Greek mythological knowledge are used impressively to pull her reader into the imagery and background of this story.  Her ability to drive the action and intrigue of warring factions in this fantasy world she has created, truly compels the reader to read and re-read this story so as not to miss a single, heart-pumping moment.
RJ RECOMMENDED READ