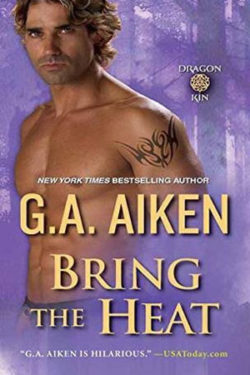 Author

G.A. Aiken

Release Date

August 29, 2017

Publisher

Zebra

ISBN/ASIN

978-1420131635

Our Rating

Reviewed by

SJ
Our Review
The ninth book in G.A. Aiken's Dragon Kin series, BRING THE HEAT, is trademark G.A. Aiken. Humor, adventure, violence, and romance combine to prove that once again, Aiken is at the top of her game in the paranormal romance genre. 
The characters are funny and richly layered, a vibrant amalgam of humor, emotion, and depth. Though the romance is centered between Aidan the Divine and Branwen the Awful, two dragons who've appeared in previous Dragon Kin books, the complex storyline involves characters from the previous books in the series. (Reading them in order greatly enriches the story.) 
What makes the characters so vivid is that each has a distinct personality. Somehow Aiken keeps them all separate, and the humor is laugh-out-loud funny. Branwen is truly awful–in the best way, a warrior dragon who loves to battle and is good at her job. Aidan is part of the dragon queen's special warriors, the Mi-runach, who pillage and destroy at the queen's command. Together, Branwen and Aidan fit, and the adventure they go on is absorbing, adding deftly to the overarching plot.
Taking place years after the previous book ended, the war is ongoing. The hunt for a wicked enemy has continued through the series, and in BRING THE HEAT, the dragons might just have found Vateria after all. There are plots and secrecy and the possible death of a beloved character we've seen before. The tension mounts as the human queen, Anwyll, is thrust into hell while the others must fight without her.
So much is going on, but everyone has a part to play. The reader will be glued to each page, reading frantically to find out how it ends. Gods, dragons, witches and humans are mounting a war, and there's no guarantee who will survive…and who will win.
Another pulse-pounding, uproarious, thoroughly entertaining story from the super talented G.A. Aiken. Fans of the series will not be disappointed.
A RECOMMENDED READ!