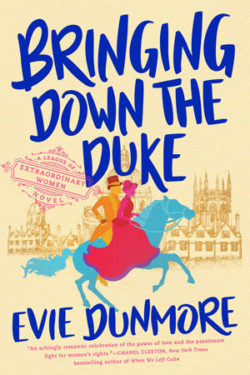 Author

Evie Dunmore

Release Date

September 3, 2019

Publisher

Berkley

ISBN/ASIN

9781984805683/ B07MCRLR6V

Our Rating

Reviewed by

Michele Rioli
Our Review
BRINGING DOWN THE DUKE is a sparkling debut filled with fierce fireworks, palpable passion, and a perfect plot. The League of Extraordinary Women series stars a gorgeous girl, Annabelle Archer who is a brilliant bluestocking and is granted a scholarship to the esteemed Oxford University. She helps recruit men of means, with her lady friends at the university, to influence the rising women's suffrage movement. She boldly targets Britain's most prominent man, the Duke of Montgomery. Can she thaw the likes of a cold, calculating duke?
Sophisticated, striking and steely-reserved, Sebastian Devereux, Duke of Montgomery, is a top-notch strategist. He meets his match when he meets Annabelle. Annabelle sweet talks him into championing the women's movement. Sparks fly, literally and physically, between them. Sparring verbally never turned him on until he meets Annabelle, an ethical, exquisite woman with a heart of gold. Sebastian's facade melts a little, just enough that he is enticed by the infuriating, incredibly lovely lady. She is everything he loves and needs in a wife. Wait, what? Uh oh, Sebastian has already gone down that road and is divorced. Plus, they are from vastly separate stations in life. So, it would never work or would it?
Annabelle is falling for the fine-looking duke, confound it all! That is not in her plans. Can she persuade a powerful duke to help her cause? Does Sebastian dazzle and woo Annabelle enough to win her heart?
BRINGING DOWN THE DUKE is brilliant in every way, romantic, suspenseful, comical, and richly detailed. It drips in historical richness and is steeped in British manners. The story is set against the British suffrage movement. Annabelle and her lady friends fight valiantly for their rights. If she can win Sebastian over to take up her stance, it will be a triumph! I absolutely loved Annabelle's friends and their stalwart protectiveness of her. Sebastian and Annabelle meet and fall in love. They are perfect for one another, but they have a tough time convincing themselves of that. Never have I read about such achingly passionate lovers, which left me totally breathless! Ms. Dunmore professionally pens a powerfully poignant plot filled with passion! Kudos on a killer story! BRINGING DOWN THE DUKE is enchanting and deeply moving. An auto buy, for sure!