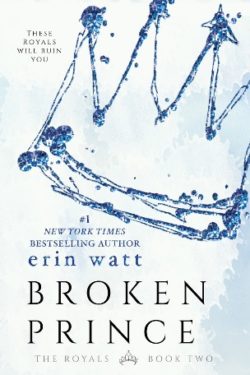 Author

Erin Watt

Release Date

July 25, 2016

Publisher

EverAfter Romance

ISBN/ASIN

978-1682305034

Our Rating

Reviewed by

Jill D
Our Review
BROKEN PRICE is the second book in the Royals trilogy and picks up right after the cliffhanger in PAPER PRINCESS. These books must be read in order so as to not spoil any plot lines. When we last saw our Royals, it was a mess with Ella leaving town and everything else falling apart. How is Reed going to find Ella to explain when she won't answer her phone?
Reed knows he messed up bad, but that's what he does–he ruins good people and anything decent in his life. It was only a matter of time before this happened. After two weeks of no Ella though, he is starting to get desperate. Then his father's private investigator finally finds something, and Callum drags Ella back home.
Reed has changed. Ella has made him want to be a better man, so he decides to show her just what that means. Ella and Reed, along with the rest of the Royal family, are going to have to stand together against the enemies this time to bring them all crashing down.
I again was instantly drawn into this book and read it from cover to cover in one sitting. While there is also a crazy cliffhanger ending in this book too, it just leaves me anticipating the last book in Ella/Reed's trilogy that much more. The character development was intricate and at times unexpected but still flawless. I hope Erin Watt continues on with this series, as it's one I have come to love.
AN RJ RECOMMENDED READ!