Burning Up (Flirting with Fire)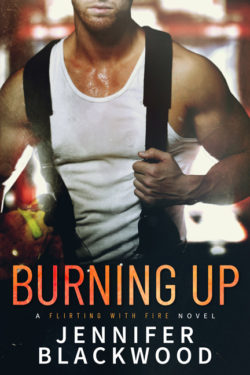 Author

Jennifer Blackwood

Release Date

May 8, 2018

Publisher

Montlake Romance

ISBN/ASIN

9781503901414

Our Rating

Reviewed by

Jo
Our Review
BURNING UP is the first book of the FLIRTING WITH FIRE series and was an enjoyable read. Erin and Jake are at the forefront but so are their families, including his daughter and the firefighters Jake works with, one of whom is Erin's brother. We get to know the characters a little at a time, but I could feel their angst throughout.
Erin was laid off from her teaching job in California and moves home to Oregon for the summer. She doesn't want to be there and lets everyone know it. Her goal is to get a new teaching job in California and return "home." Throughout the story it doesn't seem like she has a lot to go back to but is hell-bent on getting back there. She and Jake connect after she returns to Portland, and she begins to see things through his eyes. His daughter, Bailey, is a tween and keeps Jake on his toes! The interactions between the characters ranged from sweet to problematic, but the reader gets to know them quite well. The descriptions of the downtown Portland area made me feel like I was there.
The way Erin and her siblings were portrayed seemed real, as did her annoyance with her mom one minute then love and acceptance the next. Erin seemed to be pulled in more than one direction, and Jake knew that he had to protect his daughter at all costs. But why did he want to get out of his comfort zone with Erin? The story had a nice flow to it and a happily-ever-after. There was some sizzling loving as well as closure. I was happy to see that the second book in the series, UP IN FLAMES, will be out later this year!
Blackwood is a new-to-me author, and I look forward to reading more of her contemporary romances.