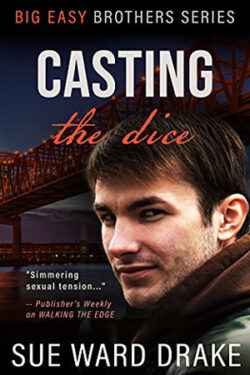 Author

Sue Ward Drake

Release Date

July 26, 2021

Publisher

Sue Drake

ISBN/ASIN

0998576735

Our Rating

Reviewed by

Dianamcc
Our Review
CASTING THE DICE by Sue Ward Drake is the second book in the Big Easy Brothers Series. The brothers are bounty hunters and a tight-knit family.
The author pulls you into the story on page one, with an edge of your seat thrill ride.
Bounty hunter Hal Guidry is after a fugitive who he believes to be at a New Orleans mansion. Instead of his skip, he finds luscious librarian Annie Swanson—and with snakes slithering around her as she lies unconscious! She is suffering from amnesia and definitely in need of protection.
Annie knows she came to New Orleans because she inherited a bookstore, which she intends to sell. Annie has no recollection of Hal or why she was at the mansion. When she finds out he is a bounty hunter, just like the one who killed her father, she splits. On the run, men try to kidnap her. She turns to Hal seeking answers.
Learning to trust each other brings out the best in Annie and Hal. In the short time they've known each other these two opposites have grown close and intimate. Neither wants to lose what they have.
This is an engaging, exciting and entertaining novel of love, intrigue and family. The brothers and aunt are well drawn characters as well, and I found I wanted to know more about them. Maybe in the next book?
CASTING THE DICE is a wonderful addition to this series and I highly recommend it.
Recommended Read