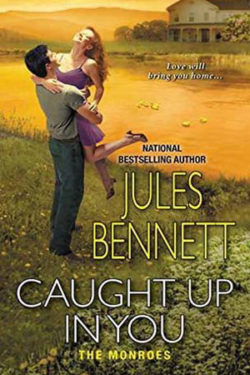 Author

Jules Bennett

Release Date

November 29, 2016

Publisher

Zebra

ISBN/ASIN

9781420139105

Our Rating

Reviewed by

Diana S
Our Review
CAUGHT UP IN YOU is the second book in THE MONROES series written by Jules Bennett. It is an intriguing story about a young woman who has lost her sight in an accident. She has moved to the small town of Haven, Georgia, to find her own independence, away from her over-protective, rich parents.
Braxton Monroe has taken a leave of absence away from teaching college history to help his brothers renovate a civil-war era house into the dream spa their late sister had plans of opening someday. Braxton is chosen through a game of rock, paper, scissors with his brothers, to be the one to interview a woman for the position of masseuse for the spa. Standing in his boxers and waiting for the woman to show up is not something he has ever done. Sophie, Zack's fiancée, has just sold a house to a new resident of Haven, who turns out to be a licensed masseuse. After the massage, Braxton is introduced to a beautiful woman who is blind. Feeling betrayed by both women in not telling him this fact beforehand, Braxton is not sure about the woman being hired for the position, but trusts his instincts that it will work out after talking to Cora.
Cora Buchanon is the daughter of the owners of Buchanan Chocolate and ever since her accident that led to blindness she has felt treated like an invalid by her parents. Deciding she wants to find her own independence and live her life without restrictions from her parents, Cora moves to the town of Haven, Georgia, where no one knows who she is. She has been to the town once before she lost her sight and remembers it fondly. Finding a job right away is not necessary as she is affluent in money, but she wants to. Meeting Braxton and the interview with a massage is more than she has bargained for. There is a definite attraction felt between the two but Cora needs to keep it just business. Cora has her service dog, Heidi, who she trusts to keep her safe and doesn't need Braxton's over-protectiveness to hamper her independence.
Jules Bennett has a way of writing direct prose and delivers complex characters who will stay with you long after you have turned the last page. Bennett's sensitivity while creating a blind heroine who doesn't allow her disability to define her just adds more warmth to this contemporary work of art. There are few books that I will remember as well as this warm and soul searching story that is amazing to read.
A RECOMMENDED READ!