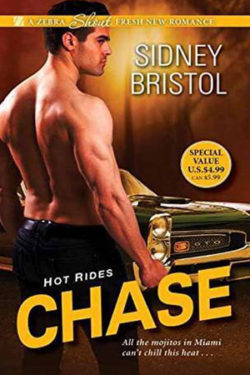 Author

Sidney Bristol

Release Date

November 29, 2016

Publisher

Zebra Shout

ISBN/ASIN

9781420139259

Our Rating

Reviewed by

AngelaG
Our Review
In the latest installment to the Hot Rides series, CHASE throws a wrench into the workings of the gang from Classic Rides. With their initial job done and Michael Evers on bail until trial, the group is being tasked with a new assignment–protection of America from homegrown terrorists. The biggest problem is that the FBI has assigned a new handler to the team of undercover agents and contract employees. Nikki Gage is not only the daughter to the deputy director of the FBI, she also happens to be Gabriel Ortiz's former handler and ex-lover.
When Nikki is put in the line of fire, Gabriel can't control his feelings and realizes that his worst mistake was letting Nikki go. Now that she is back, he will stop anyone from hurting her and damn the consequences. Nikki was assigned to the group because there are issues with the head of the Florida FBI office and the FBI wants her to get a handle on the team to keep them in line with what the FBI wants.
She is not there to get Gabriel back, but the passion that flowed between them is still there, and so is the pain of the past. Will Nikki be able to stand strong and make Gabriel back down from his overprotective actions? Will Gabriel be able to give Nikki the lead and respect that she needs to run the team? Or will the new danger stalking the team be more than any of them can handle?
CHASE is an action-packed, roller-coaster ride of danger, passion, and intrigue. Sidney Bristol introduces a new threat to the group that allows for the continuation of their assignment after the heartbreak that occurred in SHIFT. Gabriel and Nikki have a complicated past in which they both made mistakes, but the reader can clearly see that they still care about each other. An outstanding read!