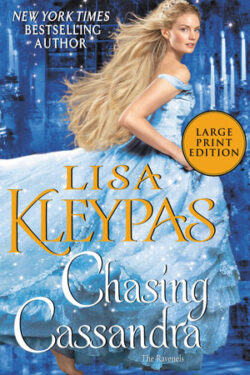 Author

Lisa Kleypas

Release Date

February 18, 2020

Publisher

Avon

ISBN/ASIN

978-0062979421

Our Rating

Reviewed by

Raonaid
Our Review
Tom Severin is a rich and powerful railway and real estate mogul. He is a man use to getting his way, in business and in pleasure. After seeing Lady Cassandra Ravenel, Severin offers for her on the spot; however, she insists on marrying for love. Fate repeatedly throws the bewitching blonde in his path. When Cassandra's reputation is ruined, Severin swoops in to rescue her. Will Cassandra alter Severin's life for the good? Or will she become his ultimate weakness?
Lady Cassandra Ravenel is the cousin of an earl. When her twin marries, she worries about finding a suitable husband. Cassandra is shocked when Tom Severin, a friend of her cousins, offers marriage. She finds the man charismatic; however, she refuses to marry a man with a frozen heart. When a spiteful peer ruins her reputation, Severin offers Cassandra a tempting solution. Can Cassandra teach Severin how to love? Or is their marriage doomed from the start?
I am so happy that Severin got his happily-ever-after. He is not your usual, run-of-the-mill hero. I like that Severin has heterochromia. It is a treat rarely seen outside of anime, so it is a treat to see it in books. I love the fact that Severin is not afraid of working with his hands. He may be rich, but he is no stranger of menial labor. What I adore the most about Severin is his views on Cassandra's appearance. He understands there is more to her than pretty looks. Also, Severin does not believe she should conform to society's views of a woman's weight.
Cassandra is such a beautiful soul. She is the perfect balance for Severin. I adore the fact that Cassandra has a voluptuous figure. She, like most women of today, suffers from body image. What I love the most about Cassandra is how she openly accepts Severin's quirks and eccentricities. Where many are put off by his demeanor, she understands the man beneath the veneer. Cassandra is not afraid to come to his defense when people would disparage him.
CHASING CASSANDRA is book six in Lisa Kleypas' historical romance series, THE RAVENELS. The book can easily standalone; however, to understand the Ravenel family dynamics, it is necessary to read the prior books. There are two books in this series I have not yet read, something I need to remedy. I adore how the couples from the previous books make frequent appearances throughout the story. I also like how we get to meet, though briefly, Lillian and Marcus's daughter – the couple from IT HAPPENED ONE AUTUMN.
CHASING CASSANDRA is a sweet conclusion to a wondrous series. I desperately hope the author plans to write a series centering on the children of the couples from her WALLFLOWER series. I would definitely read those!