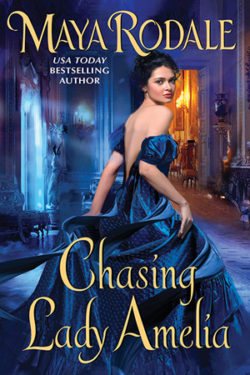 Author

Maya Rodale

Release Date

June 28, 2016

Publisher

Avon

ISBN/ASIN

006238676X

Our Rating

Reviewed by

Dottie
Our Review
Lady Amelia Cavendish and her siblings, James, Bridget and Claire were born in America, where they also grew up. But now that James has inherited the Duke of Durham title, they are residing in England. With the siblings unused to English ways, the Duchess of Durham has taken them under her wings, with plans to see them each wed to members of the nobility. Unfortunately, Amelia and the duchess are too much alike. Both have sharp minds, very firm opinions and are accustomed to getting their own way. So they frequently clash. But Amelia can find nothing appealing about the various soirees they attend. In fact, she considers them torture. All she longs for is a bit of freedom to be able to take in the sights of this new land they are now making their home.
Over six years ago, Alistair Finlay-Jones left England after his uncle told him he never wanted to see him again. Alistair would have loved to have a closer relationship with his uncle and sought his approval above all. After all, he owes his uncle a great deal, a debt he can never possibly repay. Cut off without a penny, Alistair left England and wandered around the world for more than six years. But recently he was summoned home by his uncle and sole remaining relative, Baron Wrotham. Since his uncle judges men on their lineage, rather than their character, there is no way that Alistair can gain his approval. The baron never forgave his father for marrying an Indian woman and that extended to Alistair since he is their child. But now the baron has a mission for Alistair – to make the acquaintance of the sisters of the new Duke of Durham and marry one of them. After all, their hefty dowry would be a nice addition to the barony. Fortunately, Alistair has already, unknowingly, encountered one of the sisters…Amelia, when she unwittingly stumbled into his arms.
When Amelia and Alistair wind up with one day to spend together to see the sights of London, they know that if anyone discovers them they will be ruined. Their actions lead to the bedroom and almost certain ruin. But when Amelia discovers that the baron has ordered Alistair to marry her, she believes that the man she has fallen for is just another fortune hunter. Alistair will have to do some quick thinking and some serious courting if he hopes to win the lady who holds his heart.
A delightful tale, CHASING LADY AMELIA, the second book in USA Today bestselling author Maya Rodale's KEEPING UP WITH THE CAVENDISHES series, is a witty, sensual story that is sure to delight fans of historical romance. Amelia is clearly a handful for her family. Hungering for adventure, she is the unruliest of the three Cavendish siblings. No matter what the duchess tries to do to bring Amelia up to society's standards, Amelia rebels and scandal seems to be her middle name. The duchess' efforts only seem to lead to more disaster, especially when she, unbeknownst to Amelia, has some laudanum added to her charge's water. Meanwhile, used to his uncle's attitude towards him and his own painful guilt over his past, Alistair deals with a huge amount of unworthiness. After all, his uncle is the only family he has left and his disregard of Alistair affects him greatly. The chemistry between Amelia and Alistair is very evident, and the humor will leave you laughing out loud.
This story can be read as a standalone, but for further insight and additional enjoyment, you may want to first read LADY BRIDGET'S DIARY, which is the first in this series. These two stories take place simultaneously, involving the same ball at the beginning. I could just imagine that the composed Duchess of Durham was ready to tear her hair out after being saddled with the Cavendish siblings. Scandals galore, along with humor, passion, misadventure and romance make CHASING LADY AMELIA a story you will want to read more than once. Pick up a copy today and find out for yourself! The next installment to this delicious collection, LADY CLAIRE IS ALL THAT, is due to release in December 2016.