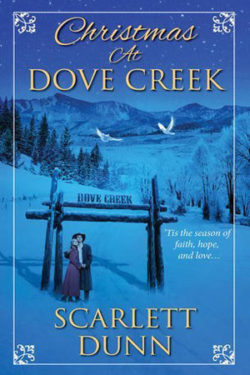 Author

Scarlett Dunn

Release Date

October 25, 2016

Publisher

Zebra/Kensington

ISBN/ASIN

9781420142235

Our Rating

Reviewed by

Diana S
Our Review
CHRISTMAS AT DOVE CREEK is a book written about the Wyoming territory in the 1800s at Christmastime.
Lily Starr is a single woman determined to take a helpless group of misfits from Texas to Wyoming. Lily and her wolf Blue are all that stands between her charges and the wild frontier. Lily is an expert markswoman and knows her way around animals. Lily aids Thorpe Turlow in fighting off some Indians and saves his life by removing an arrow from his shoulder. Thorpe can't figure out why four wagons, three women and a man are traveling alone, but he vows to help them get to their destination.
Thorpe Turlow is on his way home to Dove Creek Ranch in Wyoming territory. He is attacked by a band of Indians in Missouri and saved by an angel on horseback. Thorpe is returning from Kansas City, where he found his ex-fiancé with her new man. She left Thorpe standing at the altar and he needed to find out why. Realizing she wasn't forced to leave with the new man, Thorpe is heading home where he swears he will never be entangled with a woman again.
 Lily is looking for her grandfather because her folks had been killed by Indians. Lily has a pregnant woman with her who is trying to get to the baby's father by Christmas, a soiled dove who wants to find a husband in the wilds of Wyoming. A blacksmith who wants to find his brother is also in the party. The three were banned from traveling with a wagon train they had paid to travel with, for one reason or another. Lily took it upon herself to help them find their way and with Thorpe's help she figures they have a good chance. Lily nursed Thorpe through his wound and finds she likes touching him. When the sparks start flying between the two, Thorpe states he will never marry. One of the women told Lily that since she saved Thorpe's life, they would be together forever and Lily hopes so. Lily won't be with a man who won't marry her though.
After the trip is over and they are all at Thorpe's ranch by Christmas, things happen that can only be described as miracles.
I love this story of hardship, romance and happy endings. I enjoy learning how people survived in the 1800s in the Wyoming territory and the heartaches that have brought them all together. If you are looking for a Christmas themed inspirational historical romance novel then I recommend CHRISTMAS AT DOVE CREEK. In the traditional style of Jodi Thomas, Scarlett Dunn has brought us a story to remember.
A RECOMMENDED READ!