Christmas Camp Wedding: A Novella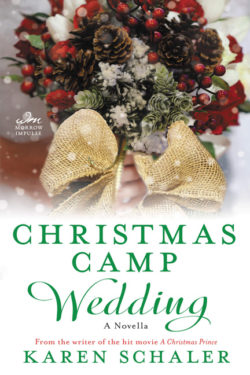 Author

Karen Schaler

Release Date

January 8, 2019

Publisher

William Morrow Impulse

ISBN/ASIN

9780062884473

Our Rating

Reviewed by

Jo
Our Review
CHRISTMAS CAMP WEDDING  is a novella at only one-hundred and forty-four pages.  It was a quick read but didn't have the depth to to the story or the characters I was looking for. It's a continuation of the book, CHRISTMAS CAMP, and I will be reading that next.
Haley and Jeff are supposed to be married on Christmas Eve at her parents soon-to-be opened B&B, but when things go wrong with the plumbing, a new venue must be found. The wedding will take place at Christmas Camp, an inn owned by Jeff's dad. But inn traditions that get changed and Jeff's old girlfriend as their wedding planner could send things in a whole different direction.
The book was all things wedding and Christmas from the first page to the last. The story seemed choppy at times, and Haley in doubting mode was hard to like. Jeff, her fiance, often seemed clueless, but there was a second story going on between Haley's best friend, Kathy, and Jeff's best friend, Steve. The best thing going for Haley and Jeff was their love and top notch communication skills. There were enough loose ends to bring us to another book in the series.
Schaler is a new-to-me author, and I will give her books another try hoping for more depth to the plot and the characters.