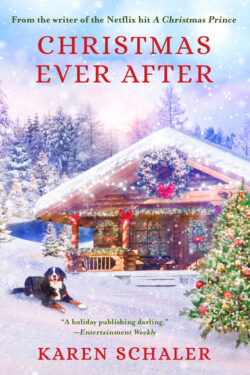 Author

Karen Schaler

Release Date

September 29, 2020

Publisher

HawkTale Publishing

ISBN/ASIN

9781734766134

Our Rating

Reviewed by

Jo
Our Review
CHRISTMAS EVER AFTER is full of all things winter and Christmas. I had heartwarming feelings while reading it even if there were a Scrooge or two involved. I was drawn in from the beginning and loved everything about the Christmas Lake Lodge and Christmas Camp events. Such a fun, holiday romance!
Riley is a romance author trying to salvage her career. She's to be the featured author at Christmas Camp so that her fans can connect with her and hopefully give her some ideas of what they'd like to read in a Christmas story. She's hoping their traditions will help give her some guidance of what to write since her last romance novel bombed. (This is the brainchild of her publicist–who's friends with Luke and knows how much Riley dislikes the holidays.)

Luke is hosting the Christmas Camp and author event as a last hurrah for his family before they sell the place. He and Riley spark but have trouble communicating from the beginning. Yet as time passes, their relationship grows. Friendship and family are woven throughout the story. The town and their traditions are delightful and add to the character of CHRISTMAS EVER AFTER.
The story is filled with holiday magic. The plot flows, the descriptions and characters are spot-on, and the love story is moving. The cover nailed the Christmas vibe–I could feel the cold of the winter wonderland! I also loved the inclusion of the recipes in the back of the book, as well as some Christmas craft ideas.
Ms. Schaler is an author I associate with Christmas. I've read her Christmas Camp books, and they all read like Hallmark movies. When I found out some of them are actually movies, it made total sense. I look forward to reading her next Christmas story.