Christmas in Angel Harbor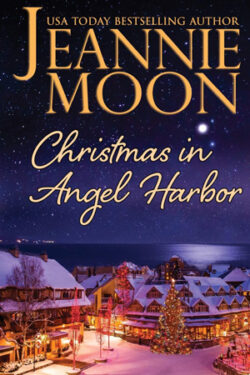 Author

Jeannie Moon

Release Date

October 29, 2020

Publisher

Tule Publishing

ISBN/ASIN

B088N9XTYB

Our Rating

Reviewed by

LJT
Our Review
​​​​​CHRISTMAS IN ANGEL HARBOR is another award winning book from author Jeannie Moon. The writing is superb, incorporating breathtaking descriptions and emotional moments. I have read every single one of Ms. Moon's books and they are all excellent. This second chance romance will keep you engaged from beginning to end.
Jane Fallon is the owner of a thriving bookstore in Angel Harbor, a small town on the Long Island coast. The store has been in her family for generations, and it is also the area's cornerstone. During the holiday season, she and the other local merchants create a true Hallmark landscape. Beautiful storefronts, holiday activities and community camaraderie decorate the welcoming harbor. Jane is surrounded by her lively college-bound daughter and loving mother. She fell in love years ago with Dan Gallo, and when he returns to town many years later, she is surprised to still have feelings for him.
Dan never looked back when he left Angel Harbor, going after his career goals with a vengeance. Now he is an extremely wealthy and successful author. His books have been made into movies and the public adores him. After one of his thrillers becomes a real-life tragedy, he decides to pen a new book in a different genre. He temporarily leaves his solitary life in Hawaii and returns to Long Island. Dan gently immerses himself into small town life, and rekindling his friendship with Jane brings him forever happiness.
I loved this story, and Ms. Moon's words flowed effortlessly and flawlessly from start to finish. Her vibrant and elegant descriptions of the holiday happenings and scenery made me want to experience Angel Harbor in all its glory. Jane's kindness was beyond genuine, and the way the townspeople supported her when times were uncertain showed how much she and the bookstore meant to the community. Dan evolves into an amazing uncle and boyfriend, and his love for Jane changes the course of his life. If you are in the mood for an emotional second chance romance, check out this magical holiday read.
Recommended Read