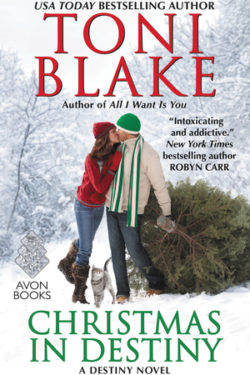 Author

Toni Blake

Release Date

October 25, 2016

Publisher

Avon Books

ISBN/ASIN

9780062392596

Our Rating

Reviewed by

Jo
Our Review
CHRISTMAS IN DESTINY by Toni Blake is my first visit to Destiny, Ohio, but it won't be my last. Destiny was warm and welcoming with a nice community feeling where everyone pitches in to help one another, and everyone knows one another and has some sort of connection.  Although this is the seventh book in the series, I didn't feel lost and could easily sort out the characters. I look forward to reading the rest of the series so I can get to know each of them a little better.
Candice and Shane meet unexpectedly during a major snowstorm after he wrecks his truck and walks to her house late at night to use the phone. Given the weather and the snow that's still falling, he's not going anywhere, much to her chagrin. Candice, or Candy or Candy Cane, as Shane playfully calls her is reticent to let him in. But once she does–in more ways than one–she definitely doesn't want to let him go. They have immediate chemistry, and when they both give in to it, there are definitely sparks flying. Grampy, who gives Shane a place to stay, is quite a character and much beloved in the town. Shane ends up surprising us and those in Destiny a time or two but is still fixated on getting to the new job that's waiting for him in Miami. The quotes from It's a Wonderful Life at the start of each chapter gave a little hint of what was to come.
Family and friends, secrets and loss, happiness and laughter fill this book. My emotions were involved from the first page to the last, all set with the backdrop of Christmas. The tree lighting ceremony and the quickly thrown together party that was held at Miss Ellie's house was heartwarming with so many activities that made me feel like I was there.
There are wonderful descriptions of the buildings, the community, the weather and the events which unfold. The characters were multidimensional with many layers to them, detailing what made them tick. A secret was unraveled and there were twists and turns to the story. There was wonderful closure that I didn't see coming, and the short epilogue that takes place a year later was the icing on the cake, especially the way it was presented.  
Toni Blake is a new-to-me author that I don't know how I've missed. I've added some of her books to my always growing TBR pile, not only those in the Destiny series. A great book you'll more than enjoy.