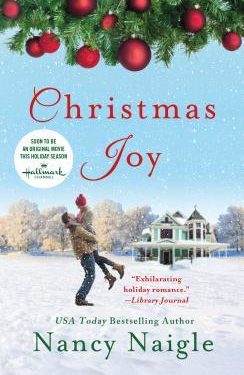 Author

Nancy Naigle

Release Date

September 25, 2018

Publisher

St. Martin's

ISBN/ASIN

9781250190208/B01DJ0XZBI

Our Rating

Reviewed by

Michele Rioli
Our Review
CHRISTMAS JOY is a lovely, lively romantic story that is extremely enchanting and entertaining. Ms. Naigle expertly pens a tale about family relationships, blooming friendships and a sneaky romance involving a pretty lady, a good-looking guy, a sweet teenager and one spirited aunt. Joy Holbrook is an overworked, determined executive who is vying for a promotion. However, she receives news that her Aunt Ruby broke her ankle. Oh no! Joy knows her aunt has numerous responsibilities caring for her farm. So, Joy hurries back home to help her aunt out. Will this kill her chance at getting her hard-earned promotion?
Joy isn't too keen on Christmas since her mom's passing. When, impatient Aunt Ruby asks her to especially take care of Molly, Joy thoughts turn to animals. Turns out, Molly is a young girl in need of companionship. Oh boy! Joy isn't experienced in handling kids.
When Joy is brought up to speed on all things Christmas at her aunt's house, a handy, handsome guy named Ben Andrews, an accountant at the hospital and a handyman, offers to help decorate Aunt Ruby's house for the annual Christmas home tour. She's reluctant at first, but soon realizes the enormity of the job and concedes to his offer. Soon, Joy, Molly and Ben are spending a lot of time together. Romance is in the air and sparks are flying between Ben and Joy. Will career-driven Joy go back to her job in the city or will she stay in her hometown, to be close to Ben?
CHRISTMAS JOY sparkles with holiday cheer, humor and a homey, loving atmosphere. When a beautiful career woman, Joy, learns that her beloved Aunt Ruby takes a nasty spill, she leaves immediately for her hometown to help care for her aunt. Fate intervenes, bringing a good-looking guy and a young girl into Joy's life. Soon, stressed-out Joy is caught up in the festive Christmas cheer relaxing, decorating, and making cookies. Joy loves spending quality time with her aunt. Plus, decorating the house with hunkalicious Ben has its perks too because zing goes the heart! Only, Joy is beckoned by work priorities and wonders whether she should stay near Ben or not? Ms. Naigle is one of my favorite authors and her pleasantly surprising stories are fabulous! CHRISTMAS JOY is a fantastic holiday story that pops like an old English Christmas cracker!