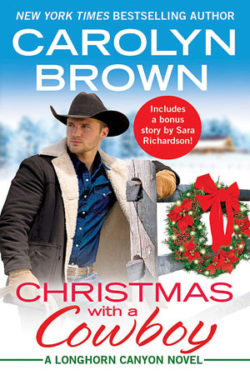 Author

Carolyn Brown

Release Date

September 24, 2019

Publisher

Forever

ISBN/ASIN

9781538748749

Our Rating

Reviewed by

Jo
Our Review
Carolyn Brown is becoming a favorite author of cowboy romances as well as contemporary romances. Her books do not disappoint and remind me of books by Linda Lael Miller and Diana Palmer.
CHRISTMAS WITH A COWBOY is the fifth book in the LONGHORN CANYON series, and I'm glad to see there will be at least two more books released next year—COWBOY COURAGE and COWBOY STRONG, both of which were hinted at in this book. It was fun getting to know Maverick and Bridget along with Laela, Bridget's ward.
Mav and Bridget originally meet the year before in Ireland, where he went on a vacation with his grandmother. They had chemistry along with a one night stand, and neither expected to ever see each other again. Imagine Mav's surprise when he finds Bridget living on the family ranch in Texas with his grandmother. (Bridget was asked to come over as Iris's caretaker after she had surgery for a broken hip.)
Mav's grandmother knows what she wants and lets everyone around her know it. Mav and Bridget are trying to fight their attraction since she plans to return to Ireland. They have no problem communicating when words aren't needed. But they tend to make assumptions about what the other is thinking much of the time. Laela is a wonderful addition to the story and has Mav wrapped around her finger. The ending nicely wraps up the plot with hints of what will come in future. While there is some closure, the book ended too abruptly for me.
ROCKY MOUNTAIN COWBOY CHRISTMAS, book 4.5 in the ROCKY MOUNTAIN RIDERS series by Sara Richardson is included as a bonus novella at the back of the book. This is the only book I've read in this series so far, but there was enough information given that I wasn't lost.
Kenna, along with her two young sons, has had a rough year. When she unexpectedly falls for Tucker, a cowboy who has no interest in settling down, things take on a new twist.  With the backdrop of Christmas and the pageant, it's a heartwarming story that had me turning the pages to see what would happen next. The story has a strong romance set in a small town wreathed in holiday spirit. The story ends on a high note but left me wanting more.
I've only read one other book by Ms. Richardson but I have added many of her books to my always growing TBR pile. I look forward to reading more of her books.