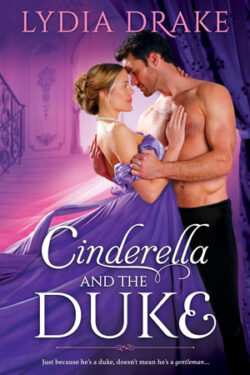 Author

Lydia Drake

Release Date

December 27, 2022

Publisher

Entangled Publishing, LLC

ISBN/ASIN

9781649373151

Our Rating

Reviewed by

Raonaid
Our Review
Julia Beaumont is a penniless spinster, who desperately wants to escape servitude to her spiteful stepmother. She is determined to secure a potential husband at her friend's ball. However, Julia risks scandal by rescuing a roguish duke from the unwanted advances of a noblewoman. When the duke returns her slipper, Julia proposes a solution that will benefit them both: a marriage of convenience. They deceive the ton into believing their upcoming nuptials are like a Cinderella fairy tale. Can Julia keep her heart safe from her rakish husband? Or will she become one of his conquests?
Gregory Carter, the Duke of Ashworth, has a reputation as London's most sought-after rake. He grows weary of fending off married women's unwanted advances and dueling disgruntled husbands. Gregory attends a friend's ball only to be accosted by a determined matron, but a mysterious blonde comes to his aid. His savior not only bewitches him with a kiss, but she leaves behind a shoe too. When Gregory returns her slipper, Julia offers him a way to escape his licentious admirers. Can Gregory and Julia continue to fool the ton? Or will he truly and irrevocably fall in love with his wife?
I had a rough time connecting with Julia. There were a few instances when I simply could not stand her. I understand that Julia is a strong-willed woman, one who is not afraid to speak her mind or be herself. However, she came off more bratty than self-independent, like she, being a woman, could do no wrong. I am not a fan of those types of heroines. What I like the most about Julia is her close relationship with her stepsister. She did not let her stepmother's apathy keep Julia from forming a sisterly bond with Susannah. There was no ill will toward each other but instead genuine affection. Susannah and Julia looked out for each other.
Gregory is not your typical fairytale "princely" type. He is a man disillusioned by the sanctity of marriage and of love. Gregory has witnessed not only the discontent in his parents' marriage but with most of his peers also. I admire his determination not to follow in that trend, despite his need for an heir. I empathize with Gregory's insecurity. He has never experienced his parents' love, and their cool indifference caused Gregory to believe he is undeserving of it. What I like the most about Gregory is his generosity. He secretly helps the less fortunate while letting his peers continue to believe he is a hedonistic rogue.
CINDERELLA AND THE DUKE is Lydia Drake's debut novel. The author does a great job revamping the classic fairy tale but with a regency-era flare. Julia and Gregory are nothing like the usual cookie-cutter couples typically found in fairytales. The heroine is not the damsel in distress but the knight errant. I also like, and approve, the direction the author took with the stepsister. Those little tweaks and changes made the retelling the author's own.
CINDERELLA AND THE DUKE is a fun retelling of the classic fairy tale Cinderella, but with an entertaining twist. I wonder if this novel is a one-shot, or if the author plans to write more books to go along with this story. It would be fun if she continues with the fairy tale themes.