Cold Heart, Warm Cowboy (Cold River Ranch)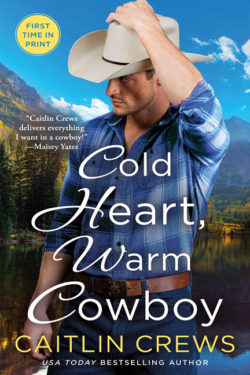 Author

Caitlin Crews

Release Date

July 30, 2019

Publisher

St. Martin's

ISBN/ASIN

978125029255

Our Rating

Reviewed by

Jo
Our Review
COLD HEART, WARM COWBOY is the second book in the COLD RIVER RANCH series, and I'm already looking forward to the next book, THE LAST COWBOY, due out early next year.
This is Ty and Hannah's story but involves her family and his brothers, including his oldest brother's family. It's nice to be reunited with characters we've met before but also to be introduced to new ones. There are so many secrets and twists to the story, which held my interest from the first page to the last. It's a quick read, and I kept turning the pages to see what would happen next.
Ty is a bull rider in the rodeo and Hannah is a rodeo queen. They met at a rodeo several years ago but drifted apart when he sent her away after he was injured. She told him she was pregnant yet still left town and never looked back because of his reaction.
Ty is hoping to get another chance to stay on the bull that caused him severe injuries two years ago and caused his life to be turned upside down. Not only did he have to leave the sport he loved, but he lost the love of his life—although he doesn't know that since he has amnesia!   
When Hannah returns to town, she's looking for one thing—a divorce. But when she sees Ty on his family's ranch, she takes a different tack. From there it's a roller coaster ride of emotions, returning memories, and emotional upheaval. Ty doesn't want anyone to know he can't remember the last two years of his life but confides in Hannah. They seem to go back and forth in their relationship. Hannah's the only one who knows what really happened when Ty was injured, but she keeps getting tangled up with her feelings for him, which she thought were gone.
I liked the relationship between the three brothers and how they live and work on the ranch together. Gray's daughter, Becca, is wise beyond her years and is a nice addition to the story. We get a real flavor of ranch life and small town living. The scenic descriptions as well as those of the ranch are spot on. I can't wait to read the next book in the series.
Ms. Crews, who also writes as Megan Crane, is a fairly new-to-me author. I look forward to read many more of her books no matter which name they are written under.