Coming Home To The Comfort Food Cafe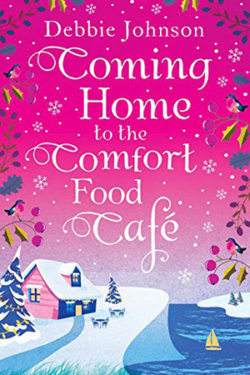 Author

Debbie Johnson

Release Date

October 30, 2018

Publisher

Harper Impulse

ISBN/ASIN

9780008263713

Our Rating

Reviewed by

Michele Rioli
Our Review
Come on in where love warms the heart, hope prevails, and friends abound in Debbie Johnson's new novel COMING HOME TO THE COMFORT FOOD CAFÉ. It stars a lady named Zoe who lost her best friend Kate and is now the guardian of Kate's teenage daughter, Martha, also her goddaughter. Martha is miserable and mad at the world, angrily acting out. Zoe is at her wit's end with Martha and figures they could use a fresh start. They leave the city behind and move to the tiny town of Budbury. Hopefully, the calm countryside will soothe their sad souls.
There they meet an amazing eclectic bunch of people who welcome them wholeheartedly. It's at the Comfort Food Café that the magic happens. Will mad, mistrusting Martha give her new home a chance? Zoe loves the city, but the town of Budbury draws her like a magnet. Is this the key to happiness in their lives once more?
Unexpectedly, just as Zoe and Martha find a balance, change occurs once again. Martha's dad, Cal, decides to make an appearance. Absent for her entire life, he figures now is the best time to bond with his daughter. How will Martha cope with her father's untimely appearance? Zoe is worn out dealing with Martha's rages, so she welcomes Cal's offer to spend time with her. Zoe makes new friends at the café. They help her out emotionally and offer much needed sympathy. Will Cal be reliable and a decent dad to Martha, offering her support? Did Zoe make a smart choice moving to the country?
Incredibly heartwarming, mixed with a bunch of zany characters with big hearts, COMING HOME TO THE COMFORT FOOD CAFÉ is enchanting! This is truly a touching tale filled with true-to-life situations dealing with the death of a loved one. Zoe and Martha struggle with the unfortunate death of their best friend and mother from cancer. Grief is all consuming and everyone handles it differently. The author expertly explores emotions and situations, sprinkling it with fabulous friends, delicious food, tricky romances and a lot of crazy fun! I didn't want the book to end! COMING HOME TO THE COMFORT FOOD CAFÉ is truly heartwarming food for the soul!
A RECOMMENDED READ.