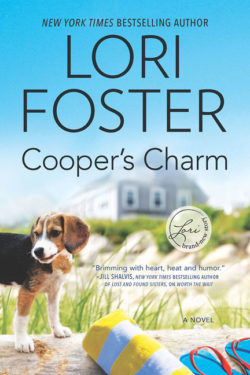 Author

Lori Foster

Release Date

July 31, 2018

Publisher

HQN

ISBN/ASIN

9781335017529

Our Rating

Reviewed by

Jo
Our Review
COOPER'S CHARM, the first book in the SUMMER RESORT series, has darkness overshadowing it, but there are playful parts as well. Phoenix is running away from her past where she was attacked and hurt. Her attackers haven't been found, and she ends up getting a job at the summer resort as a landscaper. She and the owner of the resort, Coop, are kindred spirits in that a crime was also committed against someone he loved. As a result, he becomes quite protective of Phoenix. Her sister has her own troubles and ends up unexpectedly at the resort too. There are plenty of secrets that we learn about a little at a time.
Coop has a nice group of people working for him and, when Phoenix and then her sister, Ridley, get added to the mix, things get a whole lot more fun. Daron is a jokester and the handyman/maintenance guy, Baxter is the scuba instructor, Maris runs the camp store, and Joy is the entertainment director. They all help out where needed and get along well. Their interactions add some playfulness to the story.
The story is filled with family and friends, the resort, and some crime solving. Coop and Phoenix's rescue dog, Sugar, was a delight.  
The characters have a depth to them but hold back their feelings in many cases. There are twists and turns to the story, but they meld nicely. There are a happily-ever-after or two, which give closure, yet the story still has enough loose ends to bring us back to the series again and again.
Foster is one of my go-to romance authors, but I haven't read any of her books in a while until COOPER'S CHARM. I hope to rectify that soon.