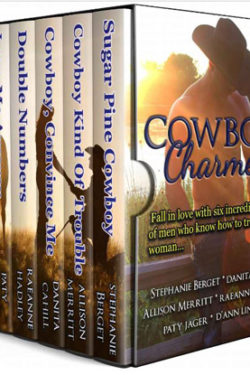 Our Review
COWBOY CHARMED has six western romance stories, one by each of the listed authors, several of whom were part of the other cowboy anthologies I've recently read. Western romances are one of my favorite genres, especially with those hot but often taciturn cowboys in them. All the stories had cowboys front and center, but they were nothing alike and neither were their stories. I loved the blurbs at the beginning of each story.
SUGAR PINE COWBOY by Stephanie Berget
SUGAR PINE COWBOY has Marlene and her history front and center when she returns to small town, East Hope, Oregon, and doesn't get a warm welcome at all. Due to her past actions, she's screamed at, gets backs turned on her, and the residents can't wait for her to leave once more. Her plan is to fix up her uncle's trailer, which she inherited, so she can sell it and use the money to get set up somewhere else. That all changes when she meets the neighbor girl, Wendy. And the love of her life, Bose, whom she ran away from, seems to be back in her life. Will they get a second chance at love? Even with Marlene's brashness, I could tell she wanted to make amends. But will it do her any good?  Her ex-husband and his family, including her daughter, live nearby, and that's one of the reasons she's trying to leave so fast. 
There was a depth to the characters that was unexpected and a happily-ever-after that I didn't expect. There was nice closure, but I'd love to revisit the characters in a holiday novella to see where their lives led them. I've read several of Berget's books, all in anthologies, and they've been some of my favorite included stories.
COWBOY KIND OF TROUBLE by Allison Merritt
COWBOY KIND OF TROUBLE is heartbreaking in its premise. Can a cowboy still be a cowboy when he's stuck in a wheelchair and no longer has the use of his legs?  After being in a car accident that injured him and claimed his soon-to-be ex-wife, Will doesn't know what his role on the Oklahoma ranch that he and his cousin Luke inherited from their grandparents is anymore. They no longer are on the rodeo circuit either, as a result of the accident. When Jessi arrives as his home healthcare aide, he's not very happy to see her, but will that change when he sees how helpful and good-natured she is and the chemistry they share?
Will goes from easygoing to angry at the drop of a hat. He doesn't want to see the doctor or take the medicine he's prescribed, but can Jessi change his attitude? Will is convinced someone caused the accident so they'll sell the ranch, but no one believes him. There's a suspense element to the story as a result. Lots of twists and turns and an unexpected happily-ever-after that's tied up nicely in the epilogue. I would love to read more about Luke and how his life turns out. An enjoyable read that had some laugh-out-loud moments. I've read several of Merritt's stories in other anthologies and look forward to reading more!
http://allisonmwrites.wixsite.com/allisonmerritt
COWBOY, CONVINCE ME by Danita Cahill
COWBOY, CONVINCE ME is a romance set during the Pine Creek Roundup in the small town of Pine Creek, Montana. Shay and Denver have an immediate attraction when her car almost hits him. They've both been burned by exes and have no need for each other, or so they think. The vivid descriptions of the competitions, the animals, the mountains, and the small town made me feel that I was there. It was interesting to watch how Shay and Denver fight their attraction. Their relationships and interactions with their friends, families, and their horses added another layer to the story. They have a lot more in common than they realize and are pleasantly surprised when they find that to be true, especially since Denver seems to be more than a rodeo cowboy and is always there for Shay when she needs him. 
There is a lot of depth to the characters, and their interactions reflect that. There are twists and turns as well as nice closure, especially with the last chapter taking place seven weeks later. There's a happily ever after that we see the beginning of, and I look forward to reading more of her books in the BELLHAM ROMANCE SERIES. Cahill is a new-to-me author. If this is her caliber of writing, I'll definitely will be back for more!
http://cahillphotojournalism.com/
DOUBLE NUMBERS by RaeAnne Hadley
DOUBLE NUMBERS is a story about childhood friends now into adulthood and who they pair up with. The three friends, Jathan, Valerie, and Hudson, are ropers and ranch owners. Jathan and Valerie are dating…or are they?  Valerie has always loved Hudson, but he thinks of her as his sister. Will she change his mind? When they choose to partner for the roping championships and have to train together each day, will that solidify their friendship or take it a step forward?
There were twists and turns to the story and some crimes being committed that really shook Val up. The horses were front and center along with their businesses. The story flowed nicely and had nice closure with a happily-ever-after that turned out better than I expected. I've read several of Hadley's cowboy romances, included in other anthologies, and I enjoyed them. I will be back for more. The excerpt of LOVE'S EVERLASTING SONG had me looking for more. 
http://www.raeannehadleyromance.wordpress.com/
LOVE ME ANYWAY (TUMBLING CREEK RANCH SERIES) by Paty Jager
LOVE ME ANYWAY (TUMBLING CREEK RANCH #2) is a nice continuation of EIGHT SECONDS TO LOVE, which was my favorite story in the COWBOY DREAMIN' anthology. It was great to see how Melanie and Brett's attraction continues to grow, and how his family, along with townspeople and the local police, rally around them to keep Melanie and the ranch safe. Lots of twists and turns with a story that flows smoothly and has great characters. The descriptions of the land and the food were vivid, and I could feel the cold. Kool, Brett's dog, is a great watchdog and should be rewarded. Lots of emotion in this story. There was nice closure and a happily-ever-after thanks to the epilogue that tied up loose ends. I hope to return to Tumbling Creek Ranch over and over again.
I've read a few of Jager's books and enjoyed them, along with several I've read that are included in Cowboy anthologies.
https://www.patyjager.net/
BRANDED by D'Ann Lindun
BRANDED had my heart in my throat more times than I wanted to count. The amount of violence was unwarranted and very graphic, and it was also more erotic than I expected. Unfortunately, this story just didn't seem to fit with the others, even with the cowboys and the descriptions of the land. It was my least favorite in the anthology. The characters were more than mean-spirited; they were evil. And those with kind hearts, Cord and Aspen, were set out to be destroyed. How Shayla's new boyfriend, JJ, could stick by her, knowing some of the things she participated in, had me shaking my head.  There seemed to be a chance for a happily-ever-after or two at the end, but an epilogue would have cemented it for me. I've read two of Lindun's other stories in cowboy anthologies, and I enjoyed one but not the other. I don't know that her style is one I can relate to.
http://dlindunauthor.blogspot.com/