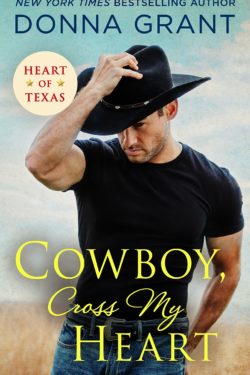 Author

Donna Grant

Release Date

August 28, 2018

Publisher

St. Martin's

ISBN/ASIN

B079DW5YGK

Our Rating

Reviewed by

Raonaid
Our Review
Brice Harper is a cowboy and former Marine. He and his younger brother enter the bull roping event at the rodeo. While there, Brice rescues a beautiful stranger from being mugged. Brice discovers there is more to the incident than he or Naomi expected. When the situation turns deadly, Brice enlists the aid of his friends and family to help keep Naomi safe. Can Brice protect Naomi and her friend from the unknown threat? Or will he lose more than just his heart?
Naomi Pierce is a photographer, who sells her photos to companies and individuals. She returns to her Texas hometown to visit her mother and best friend. Naomi is no stranger to the rodeo life. When someone tries to steal her camera, a devastatingly handsome cowboy comes to Naomi's rescue. Brice Harper tempts her into remaining in Texas, permanently. Accidents follow the two. Can Naomi help expose the culprits behind the rodeo circuit's dark underbelly? Or will she fall victim?
I remember Brice from the first book. It is nice to see how the East's influence has shaped his life in the span of twelve years. I adore Brice's willingness to help a woman in need, even at peril of his own safety. It really shows how much he grew up and matured over the years. But, what I like the most about Brice is how upfront and honest he is with Naomi about his abandonment issues. Talking with her about it helps him understand his brother Caleb more.
Naomi steadily grew on me the more I learned about her. She is no stranger to loss. Instead of allowing grief to weigh her down, Naomi keeps their precious memories close to her heart. I adore her tenaciousness and steadfast determination in helping her best friend. Distance may have separated them for a time, yet she refuses to let whatever is troubling her friend continue. What I like the most about Naomi is how she helped Brice understand the root of his brother's anger.
COWBOY, CROSS MY HEART is book two in Donna Grant's cowboy-themed romantic suspense series, HEART OF TEXAS. I love that the author returned to the East and Harper family. I also enjoyed reacquainting with Abby and Clayton, the couple from the first book, THE CHRISTMAS COWBOY HERO, and Caleb and Shane. The only qualm I have with this book is that I felt one of the bad guys gave up too quickly for his personality type.
COWBOY, CROSS MY HEART is a heartening, small-town tale of two people fighting corruption for the people they care about. I cannot wait to find out which cowboy the next book is about.