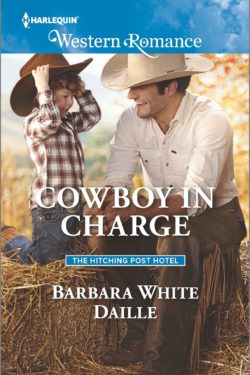 Author

Barbara White Daille

Release Date

July 1, 2016

Publisher

Harlequin

ISBN/ASIN

0373756283

Our Rating

Reviewed by

Dottie
Our Review
Layne Slater has been through two marriages, leaving her with two children to raise. At one time, she thought her dreams had come true when she wed her longtime love, her first husband Jason, but he was away from home so much with the rodeo. Finally, she threw him out after he chose the rodeo over her and their unborn son. When he left town she thought that was the last she would ever see of him. She subsequently obtained a second husband, but that had not worked out either. Now Jason is back in town, but she can't succumb to her feelings for him this time. She has her children to think of. However, Jason arrives at a time when she cannot put up much of a battle. So sick with the flu that she passes out in his arms, Layne is startled when she awakens to find that he is still there.
Watching his friend dote on his child, Jason is reminded of the son he has not seen and the woman he has never forgotten. He has carried the newspaper clipping announcing the birth of his son in his wallet and had even tried to send support to help his ex-wife and their child, but Layne sent back every letter he sent. Needing to make amends with Layne and establish a relationship with his son Scott, Jason returns to Cowboy Creek. But when he knocks on the door, he can tell immediately that Layne is sick. As she faints in his arms, he makes the decision to stay and take care of her, seeing the chance to prove himself to her. Nearby, Jed, the local owner of the Hitching Post Hotel, is making some devious plans himself to reunite the estranged couple.
As Jason hangs around, helping with the children and taking care of his sick ex-wife, spending time with Layne, Scott and baby Jill, he realizes that he is ready to be the man his little family needs. But can he convince Layne to give him a chance?
A heartwarming tale, COWBOY IN CHARGE, the fourth book in award winning author Barbara White Daille's THE HITCHING POST HOTEL series, is an emotion-packed, sexy contemporary romance with a down home warmth that leaves the reader feeling good. The love between Jason and Layne nearly leaps from the pages as the story progresses and circumstances force them into each other's nearly constant company. Layne tries very hard not to give into her deep seated feelings for Jason, and fears letting her son get too attached to his father, only to have Jason leave once more. Still, watching him interact not only with their son, but also with her daughter by another man, makes it nearly impossible not to give in. Although, at times, Jason feels like he will never be able to win Layne back, he is determined to have a relationship with his son. Jason will do whatever he has to do to make Layne see that they belong together. The secondary characters are a delight. In this series, I have enjoyed watching Jed's machinations as his attempts at matchmaking are met with tremendous success, starting with his own three granddaughters, in previous novels. He even enlists the aid of his granddaughter as he tries to throw Jason and Layne together time and again. Readers will easily fall in love with Jason and Layne's young son Scott.
As a fan of Ms. Daille's work since the first time I picked up her books, I have enjoyed each of the stories in this tantalizing series. All can be read as a standalone, but I advise reading the books in order to get a fuller understanding of the characters portrayed in this series and for additional enjoyment. I hated arriving at the last page and being forced to once more leave Ms. Daille's fictional town and the wonderful people who reside there. An exceptional author, Ms. Daille pens unforgettable novels that never disappoint and remain etched in your mind long after the story ends. This second chance romance is certain to win the hearts of its readers.
While purchasing COWBOY IN CHARGE, you may want to also pick up the other books in this wonderful series, including THE COWBOY'S LITTLE SURPRISE, A RANCHER OF HER OWN and THE LAWMAN'S CHRISTMAS PROPOSAL. I look forward to revisiting Cowboy Creek and catching up with its residents in March 2017 when the next installment entitled THE COWBOY'S TRIPLE SURPRISE is due to release. For plenty of humor, heartwarming characters and hometown charm, treat yourself to a copy of COWBOY IN CHARGE today and discover the uplifting world of Barbara White Daille for yourself. I am sure you will enjoy it as much as I did!