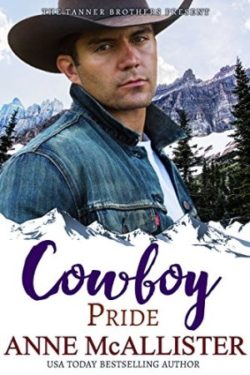 Author

Anne McAllister

Release Date

February 13, 2017

Publisher

Tule Publishing

ISBN/ASIN

9781945879722

Our Rating

Reviewed by

Chrissy Dionne
Our Review
Newly widowed and pregnant Brenna returns to her family home following her father's stroke. While he resides in a nursing home recuperating, it's up to her to take care of rounding up the cattle and seeing them off to market.  As busy as she is, Brenda still finds time to give Tuck art lessons even though he's the nephew of her ex-boyfriend, Jed. 
Jed regrets how his relationship with Brenna ended. It may have been eleven years ago but he's never forgotten her.  Now that she's back and becoming an important part of Tuck's life there's no avoiding her.  Jed's raising Tuck, but whether or not he'll be allowed to keep Tuck is questionable since social services has made it abundantly clear that they don't feel he's a very good guardian.
As luck would have it, Tuck comes up with a solution to all their problems – Jed just has to marry Brenna. It makes sense in theory but emotionally, marriage will be a trial to both of them.  Can they overcome the problem that led to their long ago break up – or is Jed destined to once again walk away from the best thing that ever happened to him?
 COWBOY PRIDE is the last book in Anne McAllister's TANNER BROTHER series.  It's impossible not to adore Jed and Brenna.  They're proud individuals who share a history that they've never gotten over and aside from breaking up never acknowledged.  I'm not sure they would have gotten back together if Jed hadn't proposed a marriage of convenience.  Jed's pride has cost him so much over the years and it seems like history's doomed to repeat itself but fortunately he eventually swallows his pride and makes things right with Brenna.   My heart broke for Brenna when she explains how she came to marry her husband even though they weren't in love.  She chose to gift him with a family, a legacy, because she knew he had a fatal illness and he desperately wanted to leave behind something precious – a child.  COWBOY PRIDE is an endearing story with plenty of heart wrenching moments, humor, love, family and friends.   I'll definitely be on the lookout for more of Ms. McAllister's books.
THE TANNER BROTHERS series:
COWBOYS DON'T CRY
COWBOYS DON'T QUIT
COWBOYS DON'T STAY
THE COWBOY AND THE KID
COWBOY PRIDE