Cowboy Six Pack Anthology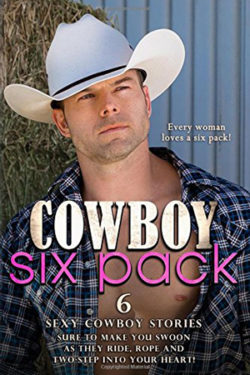 Author

Kari Lynn Dell & Others

Release Date

May 19, 2017

Publisher

CreateSpace

ISBN/ASIN

9781546701989

Our Rating

Reviewed by

Jo
Our Review
COWBOY SIX PACK has six western romance novellas, one by each of the listed authors whom are all new to me except for Paty Jager, and I've only read one of her books previously. I enjoy books that have cowboys at their core, and these six stories immersed me in all things western! Each one had a different premise and was set in a different locale. I would have preferred the stories to be a little longer than they were, but I look forward to reading more books by each of these authors. Some of them are even part of a series.
TO STEAL A COWBOY'S HEART by Kari Lynn Dell
TO STEAL A COWBOY'S HEART was different from what I was expecting since in addition to cowboys it had undercover law enforcement at its core. Shannon and Tyler have a history from a previous encounter, and it's not good when their paths cross again since she's once again on the job as a federal agent, and he's a cowboy wondering who her target is this time. We get to know their history but also how they are more invested in each other than they want to be. There are lots of twists and turns with the latest crime against livestock solved but not always by the book. There is nice closure with a happily ever after in the offing. I enjoyed the excerpt from RECKLESS IN TEXAS, TEXAS RODEO SERIES #1 and look forward to reading more of Dell's books.
http://karilynndell.com/
COWBOY COURTSHIP by Allison Merritt
COWBOY COURTSHIP was a fast-paced read, but the story line didn't have any depth to it. Dean and London meet at a bar, which goes nowhere, but it turns out he's her new boss at his family's business, Truelove Cattle Company. They take an immediate liking to each other, but she has a secret that could be a deal breaker. His dad doesn't like her and thinks she sees a meal-ticket in his son. Dean is a sweetheart, but London has a lot to prove. There are multiple stories being told along with romance and love. There was closure and a happily ever after, but the story fast-forwarded to the ending without all the details I was hoping for. I enjoyed the excerpt of Merritt's book, WILDWOOD SPRING, and look forward to reading more of her historical and contemporary novels.
http://allisonmwrites.wixsite.com/allisonmerritt
CHANGING A COWBOY'S TUNE by Stephanie Berget
CHANGING A COWBOY'S TUNE is a second chance romance story.  Mavis, a barrel racer, has already left Dex, a rancher, once and broken his heart. They grew up together, but she didn't fit the mold that his grandmother thought she should and Dean seemed to agree with her so Mavis up and left when she didn't like his ultimatum. When she returns home years later for a visit and they reconnect, will things turn out differently? Have they both grown up or grown apart during those missing years? Dex was an easy character to like for me. Grandma Lucy was a force to be reckoned with even now, and Mavis isn't sure she has it in her to go another round or two with her. There were many stories threaded together with animals and family at their core, and there is love and reconciliation and a happily-ever-after. I enjoyed the blurbs of Berget's other cowboy stories that were in the back of the book.
http://http://stephanieberget.com/
CATCH THE RAIN by Paty Jager
CATCH THE RAIN was by far my favorite story in the anthology. New vet in town, Zach, doesn't know what hits him when he meets Kitty at karaoke night in the bar he's at with his sister and brother-in-law. When things don't go well for her that night, Zach steps in to see if he can help, and it seems he's the only one there for her from there on in. She has a past that she doesn't like to talk about and a secret besides. Zach is so caring and good to her that she begins to open up a little at a time. When her past collides with the present and her possible future, she wants to run. Zach convinces her that she doesn't have to and to look around her at all the good things she has in her life. Watching them grow closer and seeing how Zach gets her to feel was heartwarming. I had tears of anger and frustration but also love as I read the story.  Kitty's dog, Winnie, was a nice addition to the story. There is a happily-ever-after, and the epilogue gave me the closure I was hoping for.   
http://www.patyjager.net/
BROKEN VOWS by Melissa Keir
BROKEN VOWS is not what I thought it would be when I saw the title. Julie and Rick are ranchers, but he's also a firefighter to make ends meet. Since they are still struggling financially, he's looking for a promotion to make things less tight. Unfortunately his new job is in Detroit and they live in Colorado. When he moves to take the job, she's supposed to follow but can't find a home that she likes. Not hard to believe since Detroit's a city, and Julie's still living at their horse farm in the mountains of Colorado. Seeing their struggles was heartbreaking since Rick seems to be moving on but Julie isn't. There are lots of heart-to-heart talks as well as romance, but will it be enough to resolve their different outlooks on life? Communication is key and there is a happily-ever-after and nice closure especially with the epilogue. I was happy to see that BROKEN VOWS is part of the COWBOYS OF WHISPER, COLORADO SERIES, and I will be back to read more! I enjoyed the excerpt from the first book of the series, THE HEARTSONG COWBOY.
http://www.melissakeir.com/
COWBOY WRECKED by D'Ann Lindun
COWBOY WRECKED has two hardened cowboys that open up their hearts to two troubled teens who need father figures in their lives. Cody is settling down in Black Mountain, Colorado and opening a bull riding school. Luke is visiting him to finish recovering from the injuries he got from a bull riding competition–when he was thrown and the bull charged and stomped on him. The prologue sets the stage for what is to come, and it was heartbreaking to see Luke's dreams getting crushed. Watching Luke change before our eyes was heartwarming, and the care he showed both Rayanne, a school teacher, and Rafe, a troubled teen, was not his usual MO–or so he says. There were twists and turns to the story as well as several story lines that tied together nicely. There was a happily-ever-after, but I was happy to see that COWBOY WRECKED is part of the BLACK MOUNTAIN SERIES so I can visit again with Luke, Rayanne, Cody and the others. I will definitely be back to read more since this was one of my favorite stories in the boxed set!  I enjoyed the blurbs of other books in the series that were at the back of the book.
http://dlindunauthor.blogspot.com/