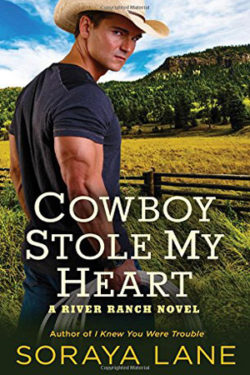 Author

Soraya Lane

Release Date

January 2, 2018

Publisher

St. Martin's

ISBN/ASIN

9781250131010

Our Rating

Reviewed by

Diana S
Our Review
Mia Ford is one of the heirs to the River Ranch in Texas. She runs the horse part of the ranch, plus she has show-jumpers of her own. She doesn't answer to anyone except her father sometimes.
Mia has been looking for an injured stallion named Tex that was part of an accident that killed one of her best friends. She promised to always take care of him and she has to honor that promise.
Sam Mendes is a horse whisperer of high acclaim in the United States. Sam is hired by Mia's father to try and heal the horse before Tex kills Mia or his ranch hands. If Sam can't fix him in a month, then Tex will be put down.
Mia has a crush on Sam after watching one of his public training sessions. When she meets him in person he is very rude and obnoxious, so she changes her mind about him.
After working around each other and getting to know each other better, Sam and Mia decide on an arrangement, to be friends with benefits for the short time Sam will be around. Sam is still reeling from the terrible heartbreak he suffered by his fiancé and her cheating ways.
As they get closer, Mia decides she wants a relationship, but Sam won't be in one with anybody. The events that occur after their split are unexpected and very thrilling to read about.
Anyone who loves horses will be enthralled with this amazing story of animals and humans interacting. You will definitely keep turning the pages to discover how the story progresses. New-to-me author Soraya Lane snagged me with her knowledge of horses and their sensitivities and I'm looking forward to her next novel.