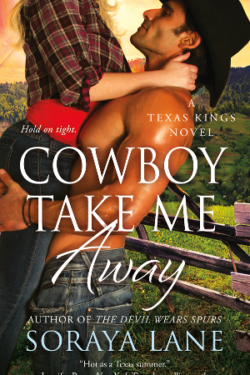 Author

Soraya Lane

Release Date

December 29, 2015

Publisher

St. Martin's

ISBN/ASIN

9781250060099

Our Rating

Reviewed by

Chrissy
Our Review
Hope Walker never thought she'd find herself in such a complicated situation. She has worked hard to build a career as a veterinarian while raising a small child alone and put the pain and disappointment of the past behind her. The last thing she expects is to find herself face to face with the one man she's never forgotten – Chase King.
Chase has never forgotten Hope. In fact, he still considers her "the one that got away." So when she arrives at his ranch in charge of inseminating his organic beef herd, he's determined to rectify the situation. The trouble is that she's changed in so many ways, including becoming a mother and losing her family ranch in Canada due to her ex-husband's conniving manipulation. Of course the attraction is still there between them, but is that going to be enough for them to survive the fallout when deep buried secrets and betrayals begin to be revealed?
Soraya Lane's COWBOY TAKE ME AWAY is really a fascinating romance between friends who'd parted ways. Hope and Chase's reunion is kind of bittersweet since it's obvious they have a deep connection. But there are issues that will have to be overcome if there's any hope of a future together. The King family is a close unit, and I believe that's a good portion of the appeal of the story – especially with the way the brothers look up to their grandfather – and support Chase's pursuit of Hope. Now that being said, there's some interesting conflicts when secrets begin to be revealed, and they discover someone is sabotaging the ranching operations.
COWBOY TAKE ME AWAY is captivating on so many levels. It's heartbreakingly memorable and will have readers experiencing a variety of emotions along with the characters. COWBOY TAKE ME AWAY is the second story in Soraya Lane's TEXAS KING trilogy. Each story can be read as a stand-alone book, but to get the full experience I believe they're best read in order (and really why wouldn't you? They're that good).
THE DEVIL WEARS SPURS
COWBOY TAKE ME AWAY          
I KNEW YOU WERE TROUBLE