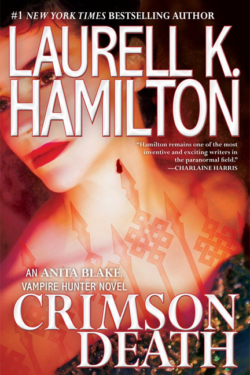 Author

Laurell K. Hamilton

Release Date

October 11, 2016

Publisher

Berkley

ISBN/ASIN

9781101987735

Our Rating

Reviewed by

Gloria Rita
Our Review
CRIMSON DEATH is a milestone release in Laurell K. Hamilton's fabulous Anita Blake series. Book twenty-five, if you can believe it, and this series still has so much going on that I'm nowhere near tired of delving into it book after book.
Of course, Anita and the whole gang are back, and in CRIMSON DEATH, I get something I've wanted for a long time; we finally learn more about Damian. Considering he's actually a pretty important element in Anita's magic, I've long felt his character didn't get utilized enough, or get enough page time, and I wanted to see more of him. Well, I finally got my wish in this book. Right away, we find out that Damian has been suffering from horrifying nightmares and blood sweats, and no one can figure out exactly what it means or why it's happening. And it could have terrifying repercussions for not just Damian, but Anita and Nathaniel as well.
CRIMSON DEATH also has a nice dose of Edward goodness in it. He's one of my favorite characters and the story is always richer for him being in it. The book opens with Edward calling on Anita for help with a case he's consulting on across the pond in Ireland. Weird things are happening that look to be vampire-related, but since it has always been believed there aren't any vampires in Ireland, the latest string of vampire murders is more than a little perplexing to the local authorities.
As it turns out, Damian's creator is in Ireland and has managed to fly under the radar for centuries, which is why no one knew there were any vampires there. So it's a real mystery as to why these highly visible murders are happening now. Has one of the scariest vampires Anita has ever come across lost power? Or worse, control? In order to find her and figure out what's going on, they need Damian, who is terrified of going anywhere near his vampire creator, to go back with them. But go back he must, to face his biggest fear. Thus begins Anita's first adventure in Ireland.
I've devoured the entire Anita Blake Vampire Hunter series more than once and strongly recommend it to anyone who loves this genre. It's, by far, my favorite fictional world to visit and, no surprise, I love these characters. Being brought up to speed on what's happening with all of the main characters, as well as meeting new ones, is one of my favorite things. And with over seven hundred pages of juicy story to sink your teeth into, you can fully immerse yourself into this world.
When I think back to the beginning of this series, so much has happened over the course of these books, and I really love how much the characters have grown. Anita in particular began as a very solitary person with few friends and nothing much going on in her life outside of her work as a necromancer and vampire hunter. Twenty-five books later the change is incredible, and for the better, in my opinion.
If you're already a fan of the series you'll love CRIMSON DEATH. If you haven't read it yet, and you love vampires, shapeshifters and magic, then you should definitely check this series out. I'd strongly recommend reading the previous books starting with GUILTY PLEASURES, the first book in the series, to get the most out of this richly vibrant world.
Great plot, great characters, plenty of danger, sex, and fast-paced action, CRIMSON DEATH is a winner. This series just keeps getting better and better. I can't wait for the next installment in this epic series.
AN EMPHATICALLY RECOMMENDED READ!