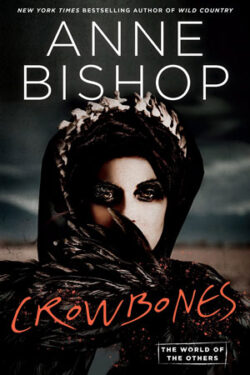 Author

Anne Bishop

Release Date

March 8, 2022

Publisher

Ace

ISBN/ASIN

978-0593337332

Our Rating

Reviewed by

SJ
Our Review
Welcome back to the Others series by Anne Bishop, in which humans are not the top of the predatory chain in this gripping fantasy world. Innkeeper Vicki DeVine is back with her Other friends trying to solve a murder… This book is best read after the first two in the series, LAKE SILENCE and WILD COUNTRY. (Note: this is an urban fantasy with a tiny hint of romance. This is not a romance book.)

In CROWBONES, the Others (shape-shifters, vampires, elementals, etc.) rule the area around The Jumble–the resort Vicki runs. She caters to a few select humans and the shape-shifters and other paranormal creatures who want to understand humans better. But during Trickster Night, Crowbones arrives and scares the Crows (crow shape-shifters) staying at the inn before running off.
Crowbones isn't real… is it? The fabled Crow boogeyman supposedly only comes to visit and punish naughty crows.
But the body found nearby isn't a Crow, he's a human dressed in a costume. Then a Crow is killed. Suddenly, the fragile peace that exists between humans and Others is stressed. It'll take the human law enforcement, the Sanguinati (vampire) leader of the Others, and Vicki and her friends to locate the guilty and figure out the intricate plot of some very evil villains.
I don't know how Anne Bishop does it, but she just keeps getting better! I loved the original Others series, (which begins with WRITTEN IN RED and centers around the Lakeside Courtyard.) This story is a continuation of The World of the Others and takes place around Lake Silence, another Others-controlled area in Bishop's marvelously-crafted world.
The characters continue to grow and change, the relationships between Others, Elders, Elementals, and humans is fascinating and very telling, mirroring a lot of the prejudice and problems humans regularly face in the real world. But it's the conflicting danger and innocence found in the Others that makes for such wonderful reading. That juxtaposition of good and bad in reaction to what humans bring on themselves. I can't wait for Anne Bishop's next book!
Recommended Read!