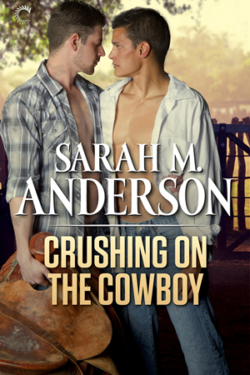 Author

Sarah M. Anderson

Release Date

June 27, 2016

Publisher

Carina Press

ISBN/ASIN

9781488020100

Our Rating

Reviewed by

Jo
Our Review
This was a male/male contemporary romance and way out of my comfort zone.  Mitch, known as the Heartbreak Kid, is a womanizer on the circuit to cover up what he really is – gay.  He's on the rodeo circuit and meets a Brasilian, Paulo, who's on the circuit so he can learn the American style of rodeo in order to open a school back in Brazil that teaches both the Brasilian and American style and have an edge on the other schools.  Mitch and Paulo have instant chemistry but both are wary since Paulo has been hurt before and Mitch has never been with a man before.
They take one step forward and two steps back and also have problems communicating with words since neither speaks the other's language.  There were a lot of steamy scenes where their love ultimately came through but there were also tense moments as well.  As they try to find their way to what they both want there are some setbacks and also some twists and turns.  The hard life of being on the circuit and traveling from town to town comes through loud and clear.  There is closure with the epilogue but there seems to be more story to tell.
Anderson is a fairly new to me author only having read THE NANNY PLAN (Billionaires and Babies #56) previously but have a few of her others on my always growing TBR pile.  I will give some of her contemporary romances a try.