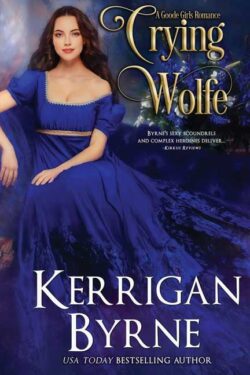 Author

Kerrigan Byrne

Release Date

April 19, 2022

Publisher

Oliver Heber Books

ISBN/ASIN

9781648391965

Our Rating

Reviewed by

Raonaid
Our Review
Elijah "Eli" Wolfe is a wealthy American mine-owner. He is often referred to as Midas. Eli ventures to England to search for a particular treasure stolen from him years ago. He pursues a fetching thief straight into the young woman's bedchambers, where he is discovered by his friend and business partner. Elijah finds himself saddled with an unwanted bride. However, he soon takes a possessive liking to Rosaline Goode and their marriage. Can Rosaline help Elijah maneuver in English society? Will he find the treasure he is seeking? Or will Eli find something more precious than treasure?
Rosaline Goode is the youngest daughter of the late bigamist Baron of Cresthaven. She sneaks into her neighbor's observatory to use the telescope and to retrieve her wayward kitten. However, Rosaline cannot curb the impulse to filch one of the treasures in the room. She soon finds herself chased by a big and foul-mouthed American. Rosaline must marry Elijah to keep the Goode name from another scandal. She intends to keep her shameful weakness from her new husband. Can Rosaline control her larcenous impulses? Or will it benefit Elijah in the end?
Elijah is abrasive, foul-mouthed, and dangerous. He is a man not to trifle with. I can see where some would feel put off by his rough demeanor and language. However, it totally works for me! I like how Elijah is not afraid to voice his displeasure and opinions to aristocrats, bureaucrats, and autocrats. He is a staunch advocate that workers receive a decent wage. Eli has experienced their life firsthand, so he understands their situations. What I adore the most about Elijah is his acceptance of Rosaline's intelligence and interests. He is not intimidated by her intellect, and he enjoyed learning new things from her.
Rosaline is Elijah's perfect counterpart. She is courteous, soft-spoken, and shy. Usually, I am not a fan of those types of heroines, yet I could not help but instantly like her. She has endured much from her late mother and late uncle's cruelty. I love Rosaline's readiness to help Elijah navigate the turbulent waters of English society. She knows he is unfamiliar with their many rules and customs. Plus, Rosaline helps him mend gaffes he unwittingly caused in his ignorance. What I adore the most about Rosaline is her acceptance of her brother's orientation. She does not share society's views on it.
CRYING WOLFE is the fifth book in Kerrigan Byrne's historical romance series, GOODE GIRLS, a spinoff from her popular VICTORIAN REBELS series. I highly recommend reading the previous four books in the series, especially TEMPTING FATE. It introduces the four Goode sisters to their new siblings and their late father's secret. For an added treat, I suggest reading the entire VICTORIAN REBELS series. Dorian Blackwell, the hero from THE HIGHWAYMAN, the first book in that series, makes a brief appearance. His part in the story made me ridiculously happy!
However, there is one part in the book that just felt odd to me. I will not state what it is and risk a possible spoiler. It did not dampen my enjoyment.
CRYING WOLFE is an exhilarating tale of two opposites learning to open their hearts to each other. I always find myself utterly captivated by Kerrigan Byrne's books. I simply devour them. And this one is no exception! I cannot wait to see which Goode is next!