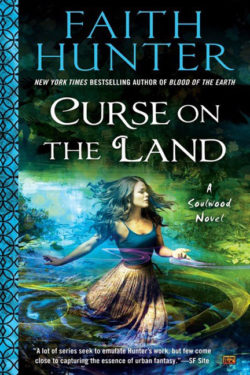 Author

Faith Hunter

Release Date

November 1, 2016

Publisher

Roc

ISBN/ASIN

9780451473325

Our Rating

Reviewed by

SJ
Our Review
Faith Hunter's CURSE ON THE LAND is the second in her Soulwood series, and once again, Hunter proves she's a master of the genre. The incredible world-building, complex, multi-faceted characters, and fast-moving plot create a book that begs to be devoured in one sitting. A must for Urban Fantasy fans, and a true delight for anyone who enjoys quality fiction.
Though this book stands on its own, it's a richer read if following the first in the series, BLOOD OF THE EARTH. In CURSE ON THE LAND, Nell Ingram has been training with PsyLED, a government agency that polices paranormals. Nell is a brand new recruit out of "spook school," and all she wants is to return home to her woods–Soulwood–an area alive with magic. But her team needs her to help with a special case, the kind that will utilize her ties to the earth.
And so begins CURSE ON THE LAND. The tension is high, the danger close, and the mysteries surrounding Nell's origins continue to unfold. Hunter crafts an amazing story with depth, as secondary characters continue to grow, impacting Nell and causing odd turns in the story.
Brother Ephraim's evil is still tainting Nell's woods, but that mess has to take a back seat to a strange kind of magic contagion spreading among civilians. And what a tangled web Nell finds herself caught in. 
More fascinating than the plot and magical mystery is Nell's continued growth. When last we saw her in book one of this series, she had been adapting to dealing with people on the outside, folks not associated with the cult in which she had been a part. Nell slowly started to understand how life away from Soulwood, along with modern conveniences, could be appealing.
In CURSE ON THE LAND, Nell eats at McDonalds, wears jeans, and works in a building away from Soulwood. Her transformation is startling, fascinating, and expected, yet for all that still captivating to watch. Her relationships with those in the team continue to develop as well, and I can't wait to see how her new feelings for Occam progress.
My only complaint with this series is that I am hungry for the next book right now and hate to wait! This is a true keeper, a gem of dark fantasy with hints of romance. My new favorite series. Thank you, Faith Hunter, and please, writer faster.
A RECOMMENDED READ!