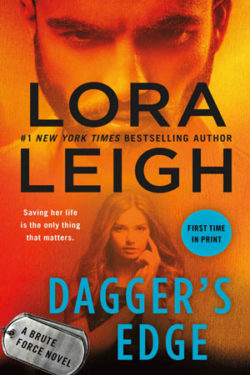 Author

Lora Leigh

Release Date

August 28, 2018

Publisher

St. Martin's Paperbacks

ISBN/ASIN

B079DX4ZB6

Our Rating

Reviewed by

BPoston
Our Review
Ivan Resnova is trying to become a good person. His life of crime has made him a person most would not want to be around. He has done horrible things but is now trying to become a man who is respected and not feared. 
Crimsyn (Syn) Delaney has worked hard to get her life back on track. Her childhood was horrible. She never felt she was loved. When she was in her early twenties, she learned family would do anything for power and money. They would even sell her to sustain their fortune.  
Ivan has wanted Syn since he first saw her years ago when he was part of the team that rescued her. She may have gone to great lengths to change her identity, but she is the woman of his dreams—even though he knows he shouldn't have her. His lifestyle won't allow it. However, when he realizes Syn is still in danger from those he thought were taken care of years ago, he can't help but get involved. He will do whatever is necessary to keep her safe, even if it costs him everything.
Lora Leigh writes amazing stories that the reader just can't put down. DAGGER'S EDGE has it all: action, adventure, mystery, suspense, romance, and some very hot, steamy love scenes. This was a great read, and I am already getting impatient for her next book to be published.
A Recommended Read