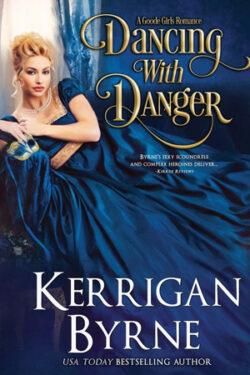 Author

Kerrigan Byrne

Release Date

February 9, 2021

Publisher

Gnarly Wool Publishing

ISBN/ASIN

B08B4ZPQ9W

Our Rating

Reviewed by

Raonaid
Our Review
Mercy Goode is one of four daughters to a baron. She intends to investigate her friend's tragic murder. However, Mercy faces many obstructions. A notorious gangster swoops in and rescues her from harm. Raphael's sensual charms threaten to distract Mercy from her sleuthing. Can Mercy uncover her friend's murderer? Will she fall for Raphael's dangerous charms? Or will she become another victim to London's dangerous underworld?
Raphael Sauvageau is a half-English and half-Monegasque smuggler. He and his older brother are the leaders of the Fauves, a crime syndicate in London. Raphael wants to help his brother escape the underworld, but first, he needs to put plans into action. However, an impetuous bluestocking interferes. She tempts him to want more. Can Raphael protect Mercy from denizens of the underworld? Can he truly leave his old life behind? And at what price?
Mercy is everything I adore in a heroine. She is an intelligent, somewhat reckless woman who would rather forge her own path than follow society's notions of her place. I admire how Mercy acknowledges her strengths and flaws. She knows that she is unlike any debutants in her social class, and she is okay with it. What I adore the most about Mercy is her fierce protectiveness toward her twin. She tries to buffer her sister from the world's cruelties with the best of her ability.
Raphael is a swoon-worthy, redeemed hero. Circumstances brands him a criminal, but he is no cruel-hearted villain. I adore Raphael's willingness to sacrifice everything for his brother's happiness and future. He wants to repay his brother for all the years of his protection and care. What I love the most about Raphael is his insistence of keeping Mercy from the underworld. He refuses to see her inner light dimmed or doused. Mercy is also a symbol that life is not all dark or jaded.
DANCING WITH DANGER is book three in Kerrigan Byrne's new historical romance series, GOODE GIRLS, a wonderful continuation of her VICTORIAN REBELS series. I recommend reading the previous two books to better grasp the Goode family dynamics. I am a little sad that certain characters from the VICTORIAN REBELS series do not play a part in this story. I really wanted to see Blackwell and Argent again.
DANCING WITH DANGER is a remarkable tale of two people overcoming their social status quo to be together. I practically devoured this book. I cannot wait for Felicity and Gabriel's story.
A recommended read.