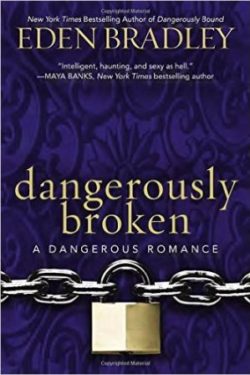 Author

Eden Bradley

Release Date

Publisher

Berkley

ISBN/ASIN

B00l9b7mzk

Our Rating

Reviewed by

Chrissy Dionne
Our Review
As the little sister of his best friend, Summer Grace has always been off-limits to Jamie despite their attraction to each other. Jamie's indulged in his more extreme desires with a number of available women who enjoy the BDSM lifestyle – all while fantasizing about the one woman he wants most in this world.  Those fantasies quickly come to a head when he notices her at a New Orleans kink club and realizes her sexual interests coincide with his.  The trouble is that despite his intense feelings for Summer Grace, Jamie has some repressed emotional issues when it comes to loved ones and death and is afraid to allow himself to love anyone because love puts you at an emotional disadvantage.  Summer Grace, however, is impossible to resist.  She's his ultimate fantasy come to life and deserves a man who's not DANGEROUSLY BROKEN.  Fortunately, she's more than willing to fight for what she wants and Jamie, she believes is well worth the fight.
Eden Bradley pens a captivatingly emotionally charged read with DANGEROUSLY BROKEN. Summer Grace and Jamie are obviously friends first and foremost but there's an underlying attraction between them that positively makes the story sizzle. They're great characters with real life problems and concerns that make them extremely relatable and even their friends will strike a chord with readers.  I particularly enjoyed the scene where everyone gathers at Brandon's gravesite in remembrance.  There's just something so infinitely sweet and touching about that particular scene that I reread it several times and teared up a little.  DANGEROUSLY BROKEN is well written, memorable, full of laughter and tears, but best of all it's a powerful story that is sexy as hell and still contains all the important aspects of human nature that make a book worth rereading.   Somehow I missed the first story in this series, DANGEROUSLY BOUND but will be rectifying that problem and preordering DANGEROUSLY BAD as well.
DANGEROUSLY BROKEN is the second title in Eden Bradley's DANGEROUS series.
DANGEROUSLY BOUND released April 2014
DANGEROUSLY BROKEN
DANGEROUSLY BAD is due to be released May 16, 2017