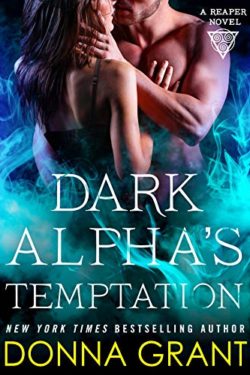 Author

Donna Grant

Release Date

January 7, 2020

Publisher

St. Martin's Paperbacks

ISBN/ASIN

B07VMZYFHR

Our Rating

Reviewed by

Raonaid
Our Review
Kyra Kavanaugh is a Light Fae, one who brokers in information. She has been fascinated with a certain Reaper since witnessing him at the Light Castle. Kyra hopes Dubhan and the Reapers can help locate her missing aunt. She offers to help him figure out a particular symbol's meaning; however, the knowledge puts Kyra's life at risk. Will Kyra find her aunt? And what secrets will she unearth for the Reapers?
Dubhan is a Dark Fae and a Reaper, an executioner and solider for Death. He is on assignment to search for the former Light Fae Queen's nephew. However, Dubhan senses he is being followed and confronts his Light Fae stalker. To his surprise, Kyra wants to help him decipher a certain symbol's meaning. The couple learn the symbol is linked to the Others, a secret band on Druids and Fae. Which side will the Reapers join in the upcoming war? The Dragon Kings? Or the Others?
Kyra is a pleasant surprise. She may not be a warrior, but she is a strong woman who is not afraid to march to her own beat. I like Kyra's attitude towards life. She equally accepts the bad with the good. Kyra also refuses to allow pessimism to rule her life. What I adore the most about Kyra is how she prefers to do mundane things like a mortal. She does not rely heavily on her magic unlike the rest of her race.
I have always liked Scottish and Gaelic names. Dubhan's name is no exception. It is both different and unusual. Plus, I have a rudimentary understanding of its pronunciation. The only complaint I have about Dubhan is his lack of presence in the story. I wanted more of his personality and his back story to help me connect with him. What I adore the most about Dubhan is his show of support for Kyra. He actually listened to her input without naysaying her. Also, Dubhan was there when Kyra needed him the most.
DARK ALPHA'S TEMPTATION is book nine in Donna Grant's paranormal romance series, REAPERS, a spin off from her DRAGON KING series. I have not read the previous eight books because I am not a big fan of novellas. I do know this series intersects heavily with the author's DRAGON KING's world. To better understand the overall plot, it is necessary to read the prior book in both series.
DARK ALPHA'S TEMPTATION is an engaging tale of two soulmates finding and helping one another. Thanks to this story, I have a better understanding on how a Fae, both Dark and Light, become a Reaper. I cannot wait to read what happens next in this world.