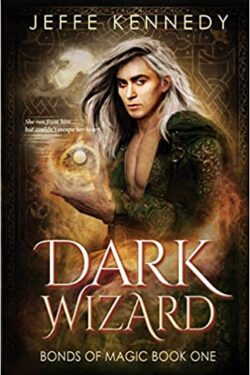 Author

Jeffe Kennedy

Release Date

February 25, 2021

Publisher

Brightlynx Publishing

ISBN/ASIN

B08SHZ34GJ

Our Rating

Reviewed by

Raonaid
Our Review
Gabriel Phel is a self-taught wizard from a fallen house. He plans to restore his house to its formal prestige; however, he needs to obtain a familiar from a top-tier house. Gabriel gambles everything on Lady Veronica Elal. The haughty noblewoman opens his eyes to the atrocities in the wizard and familiar dynamics. Will Gabriel win Veronica's regard? Can a self-taught wizard successfully take on the entire Convocation and win?
Lady Veronica "Nic" Elal is the eldest daughter of the Convocation's High House. Fate marks her as a familiar, an inferior citizen who must submit and obey their wizard betters. Veronica enters the Betrothal Trials in hope of finding a malleable to manipulate. However, Lord Phel ruins her plans. With no choice left, Veronica decides to flee. Can Veronica elude both Gabriel and the Convocation? Or are all her efforts doomed from the start?
Gabriel is such a fascinating hero. He is aware of his shortcomings, but that does not stop him from striving to achieve his goals. I like the fact that everything Gabriel knows about his magic is self-taught through books. He is also not afraid to experiment to achieve a desired result. I admire Gabriel's desire to change the world's expectation of a familiar's place. He despises how wizards treat their familiars without care for their feelings or wellbeing. What I adore the most about Gabriel is his want to have an equal relationship with Veronica. He has no desire to command and rule her. Instead, Gabriel encourages Veronica to be her usual prickly self.
Veronica slowly grew on me. She is a woman desperately trying to make the best out of the life that she has been dealt. I like how Veronica behaves around animals. She may be of noble birth, but she never ignored an animal in need, even if it meant sacrificing her freedom. What I like the most about Veronica is how she helps Gabriel learn the nuisances of Convocation laws and tradition. Once she realizes he differs from other wizards, she willingly teaches him what he needs to navigate their world. Veronica also gives him insightful ideas on how to improve his house.
DARK WIZARD is book one in Jeffe Kennedy's brand-new fantasy romance series, BONDS OF MAGIC. I like the author's creative and adventurous take on wizards and familiars. The magical system in this new world differs greatly from the one in THE TWELVE KINGDOMS and THE UNCHARTED KINGDOM series. Jeffe Kennedy does a masterful job of setting up this intriguing world without bogging down the story's pace.
DARK WIZARD is an imaginative tale of two rogues opposing archaic traditions only to discover love. I cannot wait to read what is in store for Gabriel and Veronica.