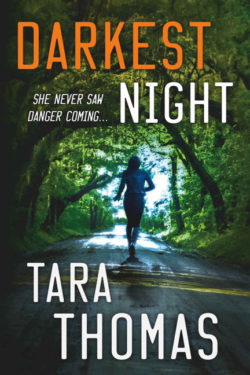 Author

Tara Thomas

Release Date

February 27, 2018

Publisher

St. Martin's

ISBN/ASIN

B071WKHXXB

Our Rating

Reviewed by

BPoston
Our Review
DARKEST NIGHT by Tara Thomas is the first book in the Sons of Broad series and is a little bit choppy but very enjoyable.
Tilly Brock loved Keaton Benedict since she was a teen. They were best buds until a horrible event tore them apart. It ended with Tilly leaving town in shame because of a crime her father was accused of. Now she's back in Charleston, working in a local bar, trying to put her life back together.
Keaton Benedict enters a local bar one night and sees Tilly Brock serving drinks. He's fantasized about this woman for many years, and she's standing right in front of him. The attraction is still there, and he wants to spend time getting to know her again. But the past that tore them apart is also what lies between them.  
They're working up the courage to see if the strong feelings they had for each other are still alive, while someone is desperately trying to keep them apart. In fact, whoever is trying to keep them apart won't hesitate to kill to keep the past secret.
A terrific blend of romance and suspense! I enjoyed this story and look forward to reading the next in the series.  A great start for a great writer, Tara Thomas.