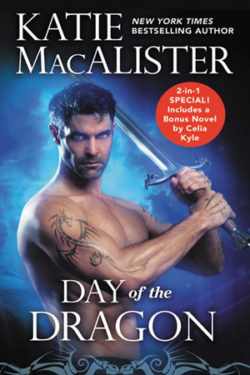 Author

Katie MacAlister

Release Date

March 5, 2019

Publisher

Forever

ISBN/ASIN

B07F68N236

Our Rating

Reviewed by

Raonaid
Our Review
Archer Andras is the Dragon Master of the Storm Dragons. He suspects his twin brother is responsible for his clansmen's suspicious deaths. At his cousin's urging, Archer purchases an ancient manuscript rumored to have a certain artifact's whereabouts. The last thing he expects is to encounter his destined mate. When his brother shows interest in her too, Archer braves everything to protect her. Will Archer learn who is murdering his clansmen? Can he keep Thaisia from falling into his brother's hands?
Thaisa Moore works as a researcher for a bookstore that specializes in rare books and antiquities. She does not believe in the supernatural; however, Thaisa finds herself deeply immersed in that world. Twin brothers, Archer and Hunter, seek her out to translate an old manuscript. Flames literally erupt between Archer and Thaisa. What secrets will Thaisa find in the ancient script?
I am on the fence about Archer. Sometimes, he came off as too overbearing and sex-crazed for my tastes. I love how Archer disliked the way Thaisa disparaged her appearance. He sees the beauty in her genetic deformity, something that she could never do. What I adore the most about Archer is his thoughtfulness towards Thaisa and her family members. Without asking, he includes her grandmother in his protection.
I adore the uniqueness of Thaisa's name. It is not a common name seen in romance books. Thaisa is an intelligent woman, one who is confident in her scholarly abilities. I empathize over her self-consciousness of her genetic abnormality and people's reaction towards it. I feel she dwells on it a bit excessively. What I like most about Thaisa is how she stands up to Archer. She refuses to let him boss her around or dictate her life.
DAY OF THE DRAGON is book two in Katie MacAlister's paranormal series, DRAGON HUNTER. Unfortunately, I have not read the prior book, yet that did not hinder my ability to follow the story's plot and characters. I love Bree. For a secondary character, she made the story humorous. Bree's spacy personality and quirks kind of reminds me of Nix from Kresley Cole's IMMORTALS AFTER DARK series.
DAY OF THE DRAGON is a fun and quirky read. I love the humor Katie MacAlister wove into this tale.