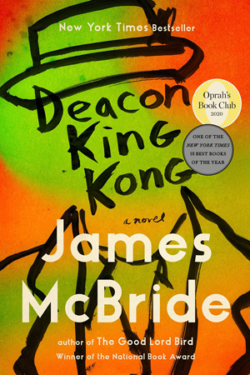 Author

James McBride

Release Date

March 3, 2020

Publisher

Riverhead Books

ISBN/ASIN

978-0735216723

Our Rating

Reviewed by

book lover
Our Review
DEACON KING KONG by James McBride has different stories that at first don't appear connected but are. There are also three lovely romances.
The story revolves around drug dealers, the Italian mob, the police, and the Black and Latino communities trapped between them. In September of 1969, Sportcoat, a cantankerous old church deacon, shoots the project's drug dealer at point-blank range.
As the story unravels, there is a biracial love story between a white policeman and the Black wife of the minister. Another love story between the Italian mobster and an Irish bagel maker, and the last is between Sportcoat and his dead wife, Hettie. 
The stories seamlessly weave together, creating a real page turner. My only problem with the book was there were so many characters I had a difficult time keeping track of them. Even so, I couldn't put the book down, and each love story had a satisfying happily ever after.