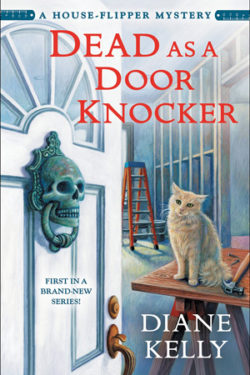 Author

Diane Kelly

Release Date

January 29, 2019

Publisher

St. Martin's Press

ISBN/ASIN

9781250197429

Our Rating

Reviewed by

Michele Rioli
Our Review
DEAD AS A DOOR KNOCKER crackles with suspense and laughs galore in Diane Kelly's debut House Flipper mystery series. It stars Whitney Whitaker, property manager and accomplished carpenter. She lives with her cat, Sawdust, in a small house on her parent's property. Whitney is offered a gorgeous antique home at a cut-rate price and she jumps at the opportunity to renovate and flip her first house. Whitney's cousin, Buck, and her have a business, Whitaker Woodworking, and she is anxious to remodel the place. She feels she scored a good deal but instead, things go haywire…
Just when Whitney thought she had her ducks in a row, disaster strikes. Within twenty-four hours, Whitney and Sawdust are awakened by newly installed smoke alarms when the renovated house catches on fire. Scrambling to get out with the cat in her arms, Whitney is bitten and is seen by fire fighters and police wearing her duck print pajamas and slippers. Can life get any more humiliating?
And then, Whitney learns from the fire inspector that her house wiring is old and faulty. She is furious because her building inspector, Bobby, should have caught the outmoded wiring before she even bought the place! To top it off, the guy she purchased the house from is found pushing up daisies in the front flower bed. Plus, her hammer mallet is found near the body and deemed the murder weapon. Holy smokes! How will Whitney get her idyllic life back? Is she now murder suspect number one?
DEAD AS A DOOR KNOCKER is extra edgy, mega complex and charmingly comedic! Ms. Kelly combines a multitude of suspicious characters with sneaky agendas, a dash of scary situations, a dollop of humor and a heaping helping of homespun appeal. Whitney, an attractive manager and carpenter, loves refurbishing old houses but her recent investment in an inexpensive fixer-upper has gone seriously awry. A dead body, a ferocious fire, vandalism and more has Whitney rethinking her hasty house purchase. A rookie detective books her, and throws her in jail! Everyone is a suspect in this twisting, puzzling murder mystery. What a mess! Little Sawdust, ever faithful feline, tries to cheer up Whitney with his cute antics.
Will Whitney wiggle all the facts out of the unscrupulous hoi polloi involved with the old estate? Or will the killer catch her at her own sneaky detective game? Ms. Kelly simply writes the best mysteries! I loved every second and can't wait for the next book in the series! DEAD AS A DOOR KNOCKER is smashing fun! It's like Flipping Houses meets Columbo.
A Recommended Read.