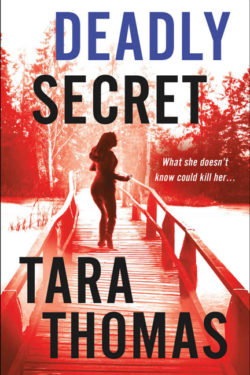 Author

Tara Thomas

Release Date

March 27, 2018

Publisher

St. Martin's

ISBN/ASIN

B075DCQRMY

Our Rating

Reviewed by

BPoston
Our Review
In Tara Thomas's DEADLY SECRET, Bea Jacobs is an attorney who hopes to run for Congress in the future. However, she was hired to investigate the Benedict business empire and finds things that lead her to believe not everything is on the up and up. She also meets Knox Benedict and, after an unexpected and whirlwind courtship, they secretly run off and get married. But when her life is threatened and she's warned that Knox will die if she doesn't stay away from him, she ends their relationship.
Knox loves Bea. She's everything he's ever wanted. Yet she ended their short-lived marriage, and he doesn't know why. He'll do anything to win her back. When he finds out she's in danger, he'll stop at nothing to protect her. Even if (she says) she wants nothing to do with him.
This is the second in the Sons of Broad series. It has great suspense. I couldn't put it down because I needed to know who was after the Benedict family! This was a great read. I can't wait for more!