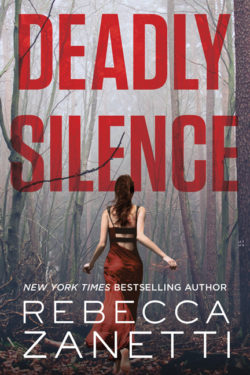 Author

Rebecca Zanetti

Release Date

October 4, 2016

Publisher

Forever

ISBN/ASIN

978-1455594252

Our Rating

Reviewed by

SJ
Our Review
In DEADLY SILENCE, Rebecca Zanetti revs up the tension with a new band of brothers fighting against overwhelming odds. As a fan of her Sin Brothers series, I was sad to see it end. I had no idea DEADLY SILENCE would tie in while going in a new direction! The book reads as a standalone and leads into what promised to be another thrilling series from this amazing author. DEADLY SILENCE is the first in the Blood Brothers series.
Ryker Jones works for The Lost Bastards Investigative Service, a private investigative service he started up with his brothers. He's had a difficult past to overcome, and Zanetti builds his character by revealing layer after layer, showing the tenderness inside a gruff man with extraordinary abilities. He's alpha-strong yet vulnerable, and his contradictions are both enthralling and sexy.
Ryker lost a client and can't forgive himself for it, so he's hesitant to get close to anyone. That and he's got a host of secrets buried in the family closet. It's a surprise that paralegal Zara Remington can make him feel so deeply. The story begins with them dating, but neither has really scratched the surface of who the other is. When Zara gets in over her head on a case, trying to protect a friend, Ryker steps in to protect her.
Then there's Ryker's new client, a twelve year old boy who knows things he shouldn't and acts years older than he should. Between Zara's case and his new client's, Ryker is turned inside out, wanting what he thinks he doesn't deserve. The past comes crashing in when his new case brings old enemies in touch with his new love,and Zara's loyalty is put to the test when Ryker's enemies, and the truth about who he is, threaten those she cares about.
Danger, passion, and thrills unite to form an unforgettable beginning to this amazing series. I can't wait to see what happens to Heath when his story is told in LETHAL LIES, coming in April 2017. DEADLY SILENCE by Rebecca Zanetti is a thrill ride from beginning to end. Romantic suspense at its finest.