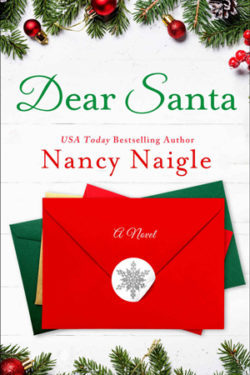 Author

Nancy Naigle

Release Date

October 16, 2018

Publisher

St Martin's Griffin

ISBN/ASIN

B079DVX2XF

Our Rating

Reviewed by

BPoston
Our Review
In DEAR SANTA by Nancy Naigle, Angela Carson operates Heart of Christmas, the holiday store owned and operated by her family for three generations. She loves Christmas and sells only unique, one of a kind merchandise. What makes it more unusual is that the store is actually an old decommissioned lighthouse run by her family. However, sales started dropping off after a national chain store that also sells holiday merchandise came to town. The way things are going, Angela believes this will be the last Christmas her store will operate.  
Feeling depressed and upset, she allows her niece to talk her into writing a letter to Santa Clause explaining what is going on and asking for help. What she doesn't know is that the letter she has written is being responded to by the son of the owner of the chain store she is fighting with.
Geoff Paisley is a businessman. Christmas is another day and another way for his family to make money. His mother usually responds to the Santa letter requests, but when she becomes ill, she makes him promise to personally respond in her staid.  Geoff quickly becomes engrossed with the stories he is reading and realizes there is more to Christmas than he believes. When he comes across a letter from a woman asking for Santa's help in saving her family business, he begins corresponding with her only to discover she is his competition—and his store is probably responsible for putting her out of business.
This was a lovely, heart-felt story about two people whose paths cross in a way that leaves them both changed. I really enjoyed this book and it definitely put me into the holiday spirit.
Recommended Read!