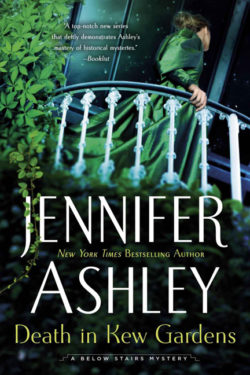 Author

Jennifer Ashley

Release Date

June 4, 2019

Publisher

Berkley

ISBN/ASIN

B07H73KSQT

Our Rating

Reviewed by

BPoston
Our Review
DEATH IN KEW GARDENS is the 3rd book in the Below The Stairs historical series. If you a good mystery set in the late 1800's, this book is for you.
Kat Holloway is the head cook for Lord Rankin's estate located in London. She has worked hard to achieve this position and is well known for her cooking prowess. She also has a penchant for finding trouble, or should I say, trouble has a way of finding her.
In this story, her next door neighbor, world traveler Sir Jacob Harkness, is murdered. Kat finds herself in the middle of trying to figure out who is responsible with the help of her mysterious friend, Daniel MacAdam. The suspect list is varied and contains some very interesting characters. Kat is not a detective, but she does love a puzzle, and she enjoys working with Daniel, to whom she is attracted.
Jennifer Ashley writes historical stories that makes the reader feel as if they are truly back in another time. Her research for writing these stories is impeccable. I could picture old London as I was reading and thoroughly enjoyed the experience. There is a great who-done-it mystery, and Kat Holloway is not afraid to step out of the traditional role a woman played during that time period to help solve the crime. Daniel's character is intriguing. He is not what he appears to be, but he definitely believes himself to be Kat's protector.  
This was a great read.